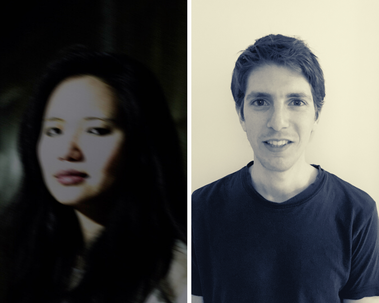 ©Marikel Lahana
Pianist, performer, and visual artist, Trami Nguyen holds a Master's degree from the HEM in Geneva. Co-founder of the Links Ensemble, she defends contemporary repertoires and participatory, scenic, immersive and/or multidisciplinary concert creations. Her visual projects revolve around performances produced in Europe and extend to the field of virtual reality production.
Doctor in auditory perception from IRCAM and holder of three Master's degrees in sound technologies and a Bachelor's degree in philosophy, Vincent Isnard is a researcher, sound engineer, and computer-music designer. His contemporary musical practices also developed in the classes of Laurent Durupt and Denis Dufour at the Conservatory. In parallel to his research and teaching activities, he pursues his career as a computer-music designer, notably at IRCAM, as well as alongside the choreographer Aurélien Richard.
Perceptual Strangeness in Virtual Reality
360° virtual reality has certain limitations: the audience can not move around as she or he wishes, there is no direct physical interaction with virtual objects. The viewer's voice could be a way to increase this interactivity since it does not require physical play but could possibly be enough to produce physical consequences in the virtual world. During this artistic research residency in 2019, we sought to evaluate the added value of interactivity when the participant uses her or his own voice, including real-time transformations of timbre and spatialization to integrate it into a futuristic context of dialogue with artificial intelligence. A fictitious reverse Turing test serves as a context for this spoken interaction and should make it possible to assess our own degree of humanity. A perceptual test is carried out in parallel to evaluate the quality of our own voice as being our own or not, as real-time transformation situations can generate a strangeness effect.