Architecture sonore : rétroaction
FABRIKculture (60 Rue de Bâle, 68220, Hégenheim)

Saturday 14 September 2019

16h00
  Concert as part of the OBJETS EMOTIONNELS exhibition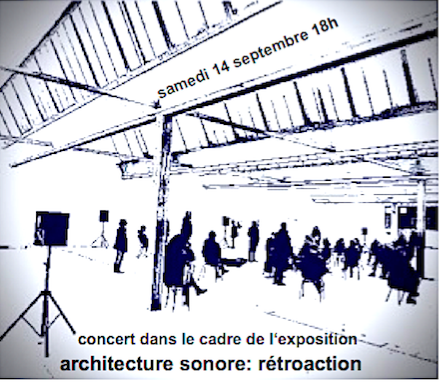 Architecture sonore gathers musicians whose aim is to explore the interactions between space and sound and study whether and how acoustic properties of a place can reveal musical coherence. Founded in 2016 by Markus Buser and Bruno Friedmann, the group is based at the "Séchoir", Mulhouse's contemporary art center. 

Alvin Lucier : I am sitting in a room (1969)
Leonard Bullock, narrator ; Bruno Friedmann, live

« I am sitting in a room » is a classic of 1969's sound art, which is still interpreted around the world by the composer Alvin Lucier himself.  A text is pronounced, read, and recorded many times in the same room. The spacial characteristics - mode, attenuations, overlay -  always modifies the sound of the voice ; finally, spacial resonances dominate ; what remains is an individual acoustic imprint of the respective room. 

Markus Buser : pulsations. Study for marimbaphone and electroacoustic device (2018)
Nagisa Shibata, marimbaphone ; Markus Buser, live-electronics

A musical instrument, such as a marimbaphone, can only really sound in a relatively closed room, which then functions as an additional resonant body. With the "pulsation" study, I try to highlight the acoustic properties of the room by means of an electroacoustic device. The natural frequencies of the room, excited at random, then rub against the well-tempered tuning of the instrument. And the question arises as to whether this arrangement could be applied in a significant way in terms of musical composition.

Karlheinz Stockhausen : Solo für ein Melodieinstrument mit Rückkopplung (1966) - Gärtner/Buser/Friedmann Version (2018)
Susanne Gärtner, flutes ; Bruno Friedmann, live-electronics

Karlheinz Stockhausen's "Solo" is not a fully composed work. Stockhausen provides a set of shape and score diagrams, and it is up to the performers to create the piece themselves according to strict rules. In the composition process, it is above all the retroactive loops that must be taken into account and that are determined to the nearest second for each formal scheme. Thanks to feedback, space becomes an actor. Stockhausen wrote "Solo" in Japan, reminiscences of the Shakuhachi flute are perceptible in the musical material.

Bruno Friedmann : Sonata spatial (2019)
Nagisa Shibata, marimbaphone ; Bruno Friedmann, live-electronics

The resonances of space colour the reverberation, shape the hearing and always sound like a complex chord. Individual sounds are stimulated differently by the noises and sounds in the room or can be intensified by an electronic feedback system. "Spatial Sonata" plays and interacts (together) with spatial sounds and their intensification by real-time electronics. The acoustic space as an accompanying musical instrument comes to the forefront; with its slow and powerful sounds, it forms a counterpoint to the precisely tuned sounds and dodecaphonic vital cadences of the marimbaphone.

Steve Reich: Pendulum music for microphones, amplifiers, loudspeakers and performers (1968)
Leonard Bullock, Markus Buser, Bruno Friedmann, Susanne Gärtner, Nagisa Shibata

Four microphones oscillate over four loudspeakers and generate feedback sounds when they pass in close proximity. Due to the slightly different phase lengths of the pendulum oscillations, new rhythmic patterns slowly develop between the four sounds. Steve Reich writes about this : " It's the ultimate process piece. It's audible sculpture... If it's done right, it's kind of funny. "

Free entrance. 

About 
Bruno Friedmann. Studies : communication technology, cybernetics, systems theory ; working field as teacher at the Hochschule Furtwangen and Musikhochschule de Trossingen : Music and media, auditory experience in digital media, interaction music and space, algorithmic composition, computer languages.  

Markus Buser. Musician and composer. Since 1995, interdisciplinary work with different artists in the fields of video, film and audio-visual installations. With Claude Gaçon among others "Du machst mich allein..." (ART'04, Basel) and "Der Tempel ist euch aufgebaut" (Kunsthalle Basel, 2002).
Leonard Bullock. Painter. Yale University School of Music and Art. 1981 first exhibition in New York, in Europe 1984 galerie Rudolph Zwirner Cologne, 1985 ART Basel. 1990 N.Y., P.S. 1 Museum's Selections. 2001 Kunsthaus Baselland.
Nagisa Shibata. Percussionist and versatile Japanese performer. She is regularly invited to music festivals and concerts in about twenty countries. Until 2012, she played at the Frankfurt Opera House.
Susanne Gärtner. Studied flute in Hamburg and Basel as well as musicology and German literature at the University of Basel and Harvard University. She is a lecturer at the Music Academy Basel.