IRCAM Forum @ La Feria de la Musica
UNSAM (Buenos Aires, online, Buenos Aires)

Tuesday 3 November 2020

17h00
During the second day of "La Feria de la Música", Música Expandida UNSAM and IRCAM Forum have presented their platforms and latest developments in Max/MSP and Max for Life tools for the community of art
ists interested in music production, sound design, experimental music, and sound arts.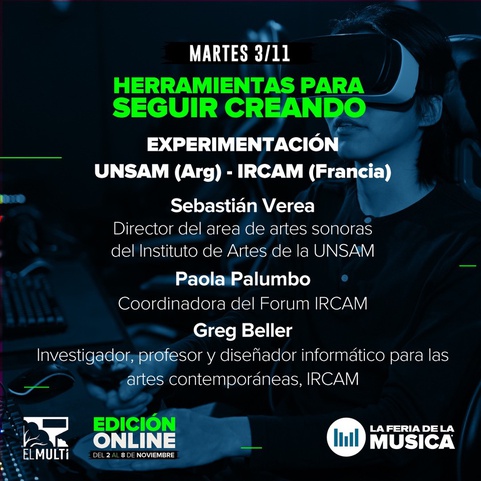 IRCAM first visited UNSAM campus in 2015, for the first UNSAM-IRCAM collaboration.
During three days, artists, students, and researchers participated in workshops, hands-on sessions, masterclasses, and lectures. That event was the starting point for Música Expandida, a residencies program that still runs in the Arts Institute of the University of San Martín in Buenos Aires. The IRCAM Forum in 2015 signed the path to explore, develop, and create for more than 70 resident artists that since 2015 are part of the program.
In this opportunity, Sebastián Verea (director at Artes Sonoras UNSAM), Paola Palumbo (Events Manager / at IRCAM) and Greg Beller (Product Manager) gave a talk in "La Feria de la Música", in a segment called "Tools for creating", presenting the frontiers of their developments.  
Social media: 
Instagram
@laferiadelamusica 

@musicaexpandida

@artes.unsam

@sebastianverea  
Twitter
@musicaexpandida

@artesunsam

@sebastianverea