Ircam Talk: Inside Out
Monday 14 May 2018

18h00 - 18h55
Ircam Talks are a series of conferences and demonstrations that illustrate the process of creating a work. The public discovers the latest experiments in the field of sound innovation and exchange with the various players in musical research. Ircam Talks are accessible to sound professionals, artists, researchers, makers, students, etc. Free access, reservation recommended

Ircam Talk
Inside Out
Carmine-Emanuele Cella  & Serge Lemouton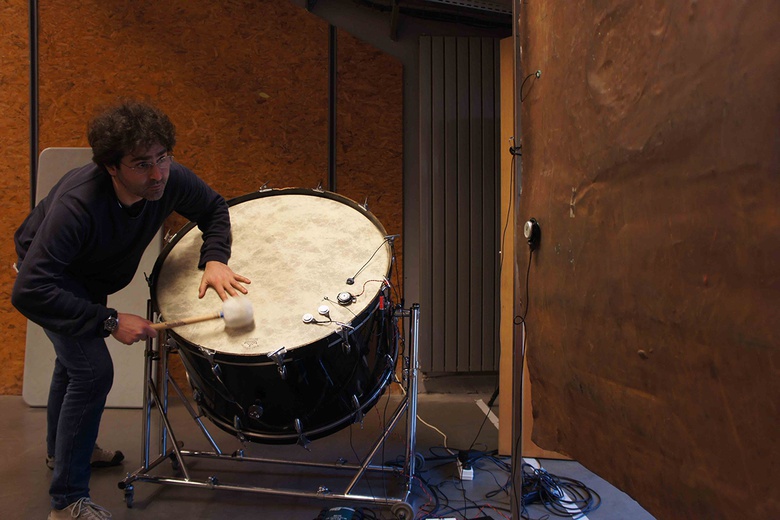 Absorb the flow. Neither past nor future. Do not try to anticipate, project, apprehend.
Remove any suffix: savor the present.
Here, now - in the intimacy of a gigantic instrument, in the heart of its acoustic space: as with Morton Feldman or Giacinto Scelsi, let yourself go to the sound - a fundamental sound, for itself, for its palpable, physical presence , enveloping.
A piano, a bass drum, a large metal plate, a gigantic gong: each instrument is augmented, that is to say capable, in addition to the sounds it usually produces, to diffuse and sound electronic sounds - able, moreover, to "play" other instruments, injecting his own sound into the resonant body of others.
They are each placed at one end of the room, far from each other, at different heights, to better immerse, seize, freeze the public in its envelope of sound. The sound loses its location, invades the entire space.
So immersed in the sound liquid, we gently go back to the surface, we leave his ears, on the watch, to plunge again. Inside-out.
From this omnipresent sound emerges, in an assumed slowness, a voice. Gradually emerging from any percussive connotation, the ambient sound is vocal, prosodic.
Like a primordial ritual, a prayer from the depths of this suspended time.
Text by Jérémie Szpirglas.
---
Monday May 14th
Ircam- Salle Stravinsky 18:00 -18:55
Conference in French
Free Access
More information : admin-forum(at)ircam.fr
---
Biography
Carmine-Emanuele Cella

As a composer he won many prizes, including: 1st prize at the G. Rossini composition competition (1998), 1st prize at the Egidio Carella competition (2010), 2nd prize at the ICOMS composition competition (2010). In 2009 Carmine Emanuele Cella has been selected by the SWR orchestra of Stuttgart, while in 2011 he has been finalist at the international Isang Yun music prize in South Korea.

In 2008 he won the prestigious Petrassi prize for composition, from the President of the Italian Republic Giorgio Napolitano. He as been selected as member of Academie de France in Madrid for 2013-2014 and has been composer in residence at Casa de Velazquez for that year. In 2015 he won the prestigious prize Una vita nella musica - giovani from Teatro La Fenice and he has recently been selected as composer in residence at the American Academy in Rome for 2016.

As a pianist he worked for major lyrical institutions such as Rossini Opera Festival, Wexford Festival Opera, Teatro Comunale di Bologna, etc. playing with famous singers like Luciano Pavarotti and Mariella Devia.
Carmine Emanuele Cella performed also as jazz pianist both in solo and in several groups (duos and trios).

From 2007 to 2009 he had a job position as researcher at IRCAM in Paris in the Analysis/Synthesis team working on audio indexing and he has also been composer in residence in the same institute.

In 2006 he created his own company, CryptoSound, dedicated to audio research and development and in 2009 he co-founded a company called 31tone, with Niels Bogaards, dedicated to professional research and development for the iPhone/iPad platforms. From 2013 to 2015 he has been Head of Technical Design at Mogees LTD, with Bruno Zamborlin.

Carmine has been post-doc researcher at ENS in Paris, in the Data team working with Stephane Mallat on mathematical models of deep learning in 2015 and 2016 and will be post-doc at HEM in Geneve until end 2018.

 

Serge Lemouton
He was born in 1967 and studied the violin as a child.  He followed the musicology cycle at the Sorbonne and in 1988 wrote a dissertation entitled Instrument-Interprète-Informatique (lit. Instrument-Performer-Computer Science) under the aegis of Manfred Kelkel.  From 1988 to 1992, Lemouton studied musical writing at the CNSMD in Lyon where he specialized in different fields of computer music in the Sonvs department.  Since 1992, he has worked as a musical assistant/Computer Music Producer at IRCAM.  He has worked with the IRCAM researchers to develop computer tools and has taken part in the production of several composers' musical projects.  He was responsible for the production and performance in real-time of several of Philippe Manoury's works including K…, la frontière, and On-Iron.  He also developed several computer music programs: a C-version of Chant (1990) for Macintosh, numerous external objects for Max (nth) and Max/MSP (samplor~, etc.), as well as systems for score following and the analysis of instrumental gesture carried out primarily using Max/MSP.  Since 1998 he has been teaching at the Université Paris VIII.  Lemouton is also the author of diverse works for the meantone harpsichord, viola da gamba, cornetto, and cristal-baschet.
He has worked on musical creations with the following composers: Florence Baschet Spira Manes, Bogenlied ; Frédéric Durieux : Here, Not There; Karlheinz Essl : Entsagung ; Kimmo Hakola : Le sacrifice ; Michael Jarrell : Rhizomes ; Mauro Lanza : le songe de Medée ; Michael Levinas : Rebonds ; Magnus Lindberg : Related Rocks ; Philippe Manoury : K…, On-iron, La frontière, Noon, Partita 1 ; Benedict Mason : third music ; Tristan Murail : L'esprit des dunes ; Valerio Sannicandro : ius lucis ; Asbjorn Schaathun : Double Portrait ; Marco Stroppa : come natura di foglia, i will not kiss you f.ing flag, Gerard Winkler : Koma…