Powcast for Powland.tv Paris at IRCAM
Ircam (1 Place Igor Stravinsky, 75004, Paris)

Thursday 24 September 2020

20h30 - 23h00
Powland.tv takes over Ircam for a Powcast session in the legendary Studio 5! A 100% modular live show with a "restrictive" generative music line.
A high quality line-up with Apollo Noir
, 

Canblaster and

 

controlrandom

. The artists will all use modular synthesizers for their performance. 
Watch the stream again!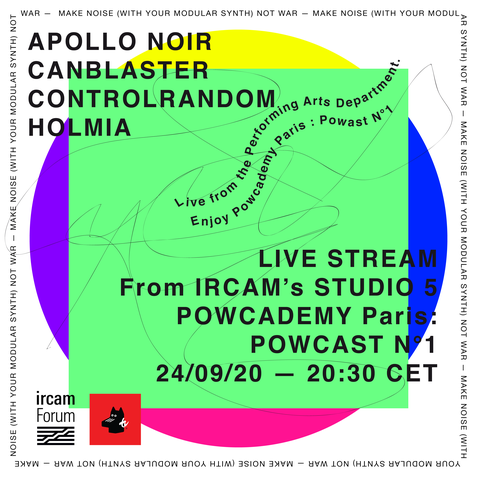 POWLAND.TV
The Powland Network host the "Powcademy institute of sound art" which recognizes and promotes excellence, inspires, imagines and connects the world through sound. Founded in 2017 in Amsterdam to bring together the local sound art community, Powcademy has become a branch of the Powland Network, a central haven of experts that bridges multiple industries and disciplines.
The Powland Network, which has over 60 million video views per year and reaches 11 million people per month, includes the Powsolo Awards, The Soundart Agency, and à la carte sound art at the Powshop, Powcademy's educational programs, and the soon-to-be-released Powzoo web application.
Previous lives
Thursday, September 24th, starting at 8:30 p.m.
📍 Studio 5 (IRCAM, place Igor Stravinsky) or live-streamed (FACEBOOK LIVE).