Come discover the exit of the Tae Hong Park Artistic Research Residency 
Interactive Soundscape Environnement

The current focus of the project is in the urban noise pollution problem which is one of the most (un)popular pollutants for cities like New York: noise pollution is ranked as the no.1 complaint of New York residents as quantified by its 311 non-emergency hotline system. One of the project's efforts is to bring awareness to noise pollution through the power of art. As such, he has been developing compositional ideas through InSeE (Interactive Soundscape Environment) which have led to a number presentations of installation works.

He is currently in the midst of developing a data-driven composition through incorporation of spatio-acoustic data streams.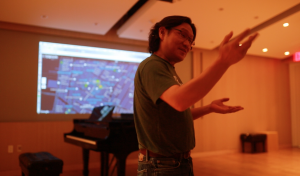 BIO : Tae Hong Park is a composer, music technologist, and bassist. His work focuses on composition of electro-acoustic and acoustic music, machine learning and computer-aided music analysis, research in multi-dimensional aspects of timbre, and audio digital signal processing. Dr. Park has presented his music at national and international conferences and festivals including Bourges, ICMC, MATA, SCIMF, and SEAMUS. Among the ensembles and performers that have played his work are the Brentano String Quartet, California E.A.R. Unit, Edward Carroll, Ensemble Surplus, Zoe Martlew, Nash Ensemble of London, and the Tarab Cello Ensemble. Professor Park is author of Introduction to Digital Signal Processing: Computer Musically Speaking (World Scientific, 2010). He is the Chief Editor of Journal SEAMUS, serves as Editiorial Consultant for Computer Music Journal, served as President of the International Computer Music Association (ICMA), and is Director of NYU Steinhardt's Composition program. He received his Ph.D. from Princeton University.
In collaboration with Perception and Sound Design Team.
Free access
Seminar in English