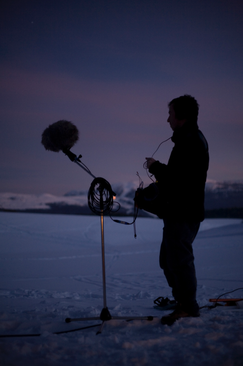 Aaron Einbond's work explores the intersection of instrumental music, sound installation, field recording, and technology, bringing the spontaneity of live performance together with computer interactivity. His recent music has focused on audio transcription as the center of a creative process bridging composition, improvisation, and interpretation, questioning the thresholds of perception between instrument, stage, room, and loudspeaker. Recently Chicago-based Ensemble Dal Niente released his portrait album Without Words on Carrier Records, SWR Experimentalstudio produced his Giga-Hertz prizewinning Cartographies for piano with two performers and electronics for the 47-loudspeaker Klangdom at ZKM in Karlsruhe, and the Académie du Festival d'Aix and Opera Lab Berlin co-produced his site-specific ambient chamber opera Hidden in Plain Sight in the streets of Aix-en-Provence. Upcoming projects include a concert-installation for Yarn/Wire and collaborations with TwoNewDuo and loadbang. He teaches Music Composition, Sound, and Technology at City, University of London and is Co-Artistic Director of Qubit New Music Initiative with whom he curates and produces experimental media in New York.
Einbond has received a John Simon Guggenheim Memorial Foundation Fellowship, an Artistic Research Residency at Ircam in Paris, and taught at Columbia University, the University of Huddersfield, and Harvard University. He was born in New York in 1978 and studied at Harvard University, the University of Cambridge, the University of California Berkeley, and Ircam with teachers including Mario Davidovsky, Julian Anderson, Edmund Campion, and Philippe Leroux.
OpenMusic - Spat - MuBu
Acoustic instruments come to life through complex interactions between timbre and the surrounding space. Yet recent research on audio features and artificial intelligence often ignores the spatial presence of the live instrument and performer. With collaborators Jean Bresson, Thibaut Carpentier, and Diemo Schwarz, we present a collection of patches to connect audio descriptor analysis and corpus-based synthesis with spatialization using higher-order ambisonics (HOA) and machine learning techniques. The project harnesses powerful Max packages spat5 and MuBu along with OpenMusic libraries OM-Spat5, OMIAE, and OMAI by Anders Vinjar and Jean Bresson. These tools enable the computer to "learn" from measured radiation patterns of acoustic instruments and apply them to spatial audio in real or deferred time. Together they suggest novel applications to live spatial sound synthesis and computer-assisted composition. The immediate artistic goal is a new work Cosmologies for piano and three-dimensional electronics, exploding the space inside the piano out to the space around the listener, who is situated inside the virtual instrument to experience its secret inner life. This project is produced during the STARTS Residencies program with the support of the European Commission, and Cosmologies is performed at Ircam Live on March 5th.