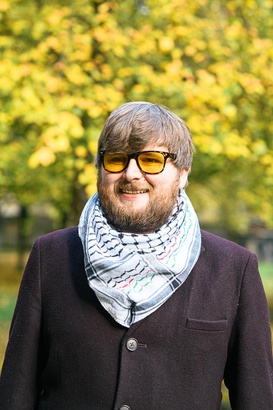 Powerful, poignant and deeply moving, Lunn's composition certainly represents the spirit of Disability History Month 2018 and our current struggle for justice. – Gemma Nash, Disability Arts Online
His music has been described as 'Evocative', 'Restrained Otherwordliness', 'Chilling', 'sophisticated and most importantly obsessive' or 'produces…glorious roaring sounds' and 'desolate monotone'. He has also been referred to as a 'Composer of life music'.
Ben Lunn is a Mackem composer who studied in the Royal Welsh College of  Music and Drama under the guidance of Peter Reynolds, as well as studying in the Lithuanian Academy of Music and Theatre with Marius Baranauskas. He has also received guidance from Param Vir and Stuart MacRae. Since graduating from his Master's he now resides in Glasgow, working in various elements including conducting, musicology, teaching and composing.
As musicologist, his specialities focus around Baltic Music, Horaţiu Rădulescu, and Composing and Disability. He has had the honour of lecturing in some of the world's leading academic institutions including Fordham University, Mozarteum, RWCMD, Royal Conservatoire of Scotland, Komitas Conservatory, Durham University and Amsterdam Conservatoire. His articles have been published in Germany, UK, US, Russia, Lithuania, and collected by the Arvo Pärt Centre. He has also delivered written work for the Music Information Centres of Lithuania and Latvia.
Currently he has been made an associate artist for Drake Music and Drake Music Scotland. In October 2017 he was appointed Trainee Artistic Director of the Hebrides Ensemble. Ben Lunn is also featured in the British Music Collection and the British Council's Disability Arts Online as a featured artist. His music is published by Orianna Publications
Hidden Potential and Forgotten Performers
The evolution of music technology has allowed for many grand evolutions and discoveries in the world of music; including potential for address barriers disabled people face when learning an instrument.
Institutes like IRCAM have allowed technology to not only thrive within contemporary music but also challenge how far music can go. Parallel to this, music educators and disabled people have been able to create new instruments built with their bodies in mind. However, there has been little to no crossover between these camps.
This lack of cross collaboration has meant technological advances are not always accessible to the disabled. It has also meant that accessible music technology has only been able to move within a music educator's vision - namely never as progressive and forward thinking as other advancements in technology.
This article will offer insight into what is physically capable with various items of music technology as well as argue why composers and technologists should be investing time and energy into helping expand this rather naive musical field.