Abstract: 
"C'est pour quoi", 
Installation by Jérôme Nika with the complicity of Rémi Fox and Steve Lehman, production Le Fresnoy - Studio National des Arts Contemporains, 2020.
Sound installation / listening device dedicated to the diffusion of pieces resulting from the interaction between human and machine musicians using generative processes of "artificial intelligence". 
"C'est pour quoi" uses the DYCI2 and OM-DYCI2 environments developed by Jérôme Nika within the Musical Representations team of Ircam
The musical improvisations presented in the installation "C'est pour quoi" play to underline the convergences and divergences between the intentions of the individual and their repercussions on the collective. Broadcast by a mixed device combining intimate listening (open headphones) and collective (speakers, quadraphony), the music results from the interaction between computer agents equipped with musical memories, and the stimuli instilled by improvisers: Steve Lehman (California Institute of the Arts, " #1 Jazz Album " 2009 / 2014 / 2020 NY Times & LA Times...) Rémi Fox (Winner of the " Prix Lagardère ", " Prix Jazz Migration ", " Tremplin Jazz à Vienne " ...).
C'est pour quoi presents a form frozen by the recording of improvisations between a saxophone and a "machine musician" using learning models for interactive creation. Freeing itself from the didacticism de rigueur in the field of "creative AI", focusing its attention only on the means, the device maintains the confusion of roles to show "what we play" rather than "how we play". It presents the naked finality of creative processes using these new generation instruments and exploiting the practices they offer: meta-improvise and compose on the scale of intentions.
Broadcasted pieces: Improvisation #1 - Rémi Fox & Jérôme Nika (6min40), Improvisation #2 - Steve Lehman & Jérôme Nika (10min30), Improvisation #3 - Rémi Fox & Jérôme Nika (5min30).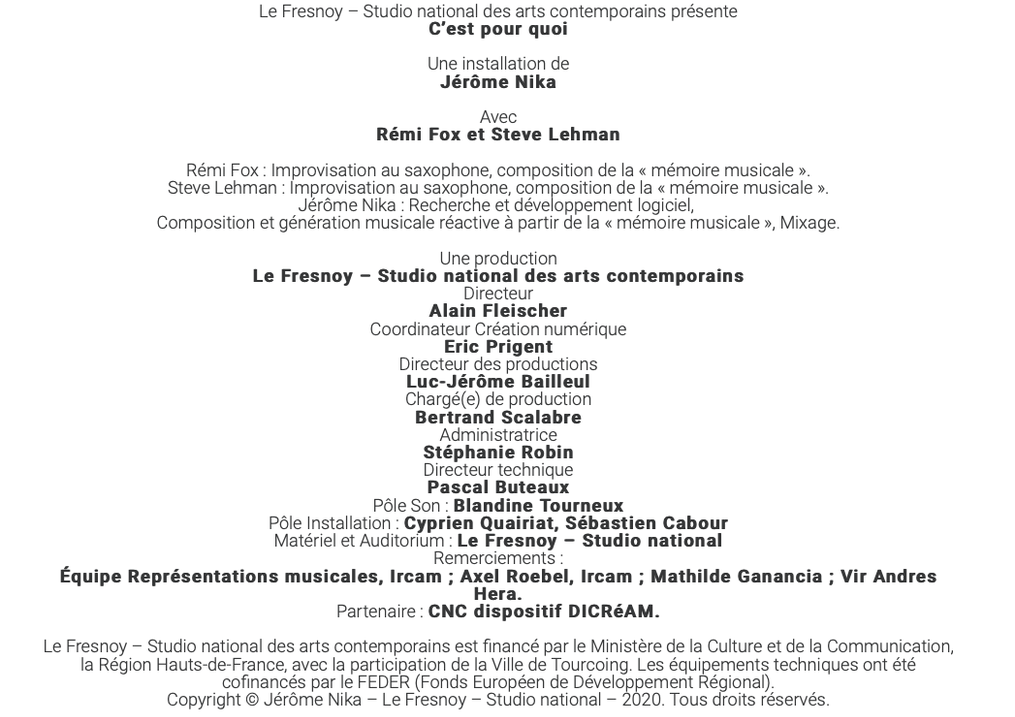 Bio: 
Jérôme Nika (PhD),
Researcher, computer music designer, musician, specialized in AI generative technologies for human-machine creative interactions.
As a researcher in the Music Representations Team at Ircam, Jérôme Nika's work focuses on how to model, learn, and navigate an "artificial musical memory" in creative contexts. In opposition to a "replacement approach" where AI would substitute for human, this research aims at designing novel creative practices involving a certain level of symbolic abstraction such as "interpreting / improvising the intentions" and "composing the narration".
Numerous artistic productions have used technologies resulting from this research since 2016 (Onassis Center, Athens, Greece; Ars Electronica Festival, Linz, Austria; Frankfurter Positionen festival, Frankfurt; Annenberg Center, Philadelphia, USA; Bimhuis, Amsterdam, Netherlands; Studio 104 de la Maison de la Radio, Grande salle du Centre Pompidou, Collège de France, LeCentquatre, Paris, France; Montreux Jazz festival, etc.). 
As a musician, computer music designer, or scientific advisor, he is involved in numerous musical productions and artistic collaborations, particularly in improvised music (Steve Lehman, Orchestre National de Jazz, Bernard Lubat, Benoît Delbecq, Rémi Fox), contemporary music (Pascal Dusapin, Alexandros Markeas, Ensemble Modern, Marta Gentilucci), and contemporary art (Le Fresnoy – Studio National des Arts Contemporains).