Abstract :
This collaboration between an improvising pianist and an electronic luthier is based on the hybridization of the piano using an electromechanical device that transforms traditional luthiery and disturbs its use. The modelling of the instrument's sound capacities opens up a space for playing and allows us to search for a new sound and gestural grammar.
This device was created in 2020-21 by the Sonopopée collective thanks to a commission from the GMEM - Centre national de Création de Marseille, made to Claudine Simon. It gave rise to Pianomachine, a sound creation show with texts, choreography and scenography.
The piano is prepared with the addition of objects (magnets, vibrators, sound bodies...) and materials (adhesive paste, rock, glass...) mainly intended for the strings, and affects the timbres of the instrument.
The electromechanical device is piloted by the electronic luthier via a set of controllers and software lutherie, this set of robots with various profiles (servomotor, solenoids, electromagnets) acts on the strings and the structure of the piano. It activates sticks, balls and other percussion instruments, or acts on the strings by magnetic beats (without contact).
The electroacoustic treatment and computerized lutherie (MaxMsp, GigPerformer) operate from microphones that capture and sample the timbres of the instrument. The sound is diffused, transformed and spatialised by a multiphonic system of loudspeakers. This hybridization increases the creative possibilities in terms of timbres and interactions tenfold.
Bio :
Claudine Simon is a pianist, improviser and artist. She is developing a sound creation work that attempts to experiment with the capacities of her instrument by hybridizing it.
A versatile musician, she has a taste for writing on the boundaries between music, dance and theatre. She likes to take advantage of the porosity of these disciplines and to cross her vision with those of choreographers, directors, philosophers, video artists or visual artists.
She trained at the CNSMD in Paris with Jean-François Heisser, Pierre-Laurent Aimard ans Alain Savouret, and has had many encounters that have nourished her career and her artistic practice.
Her work focuses on the creation of performances that allow her to question her relationship with the instrument. She conceived Pianomachine, a choregrafical performance with an electromechanical device that intervenes in the heart of the piano, its structure, transforms its timbre, its lutherie, and questions its organism unity.
Vivien Trelcat is a composer and performer. He studied music and electroacoustic composition at the UFR of Musicology in Reims with Jean Luc Hervé and Jean Marc Chouvel, then at the Césaré creation workshop before completing his training at IRCAM.
Musical assistant within the Césaré team from 2003 to 2010, he worked mainly with Christian Sebille as well as with composers such as Jean Christophe Feldhandler, Patrick Marcland, Jean Luc Hervé, Arnaud Petit, Patricia Dallio, Patrick Défossez. In 2018, he founded the Sonopopée collective, with Maxime Lance, Nicolas Canot, Thomas Dupouy and Alexis Derouet, wishing to bring together artists who are composers as well as computer and electronic developers, around the creation of new instruments.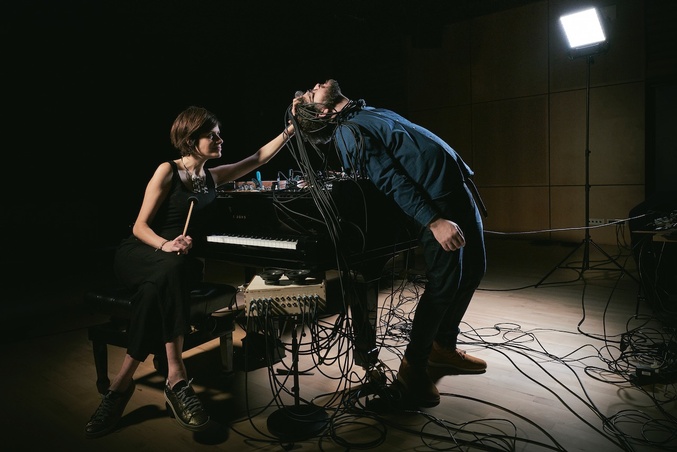 @Claudine Simon