During this Forum online we'll go deeply on Spatialization, Orchestration, Perception questions.
with Carmine Cella, Zosha Di Castri, James O'Callaghan, Stephen McAdams, Matthew D. Gantt, Robert Normandeau, Catherine Guastavino, Nadine Schütz, Linda Bouchard, Thibaut Carpentier and several more...
Roundtables themes: 
Timbre and orchestration

 

Spatialization, virtual reality, and augmented reality

Spatialization, Spat, and SpatGRIS

Spatialization, sound art, and immersive experience

Composing timbre and space

La musique électroacoustique, l'interprétation et le multimédia (FR)

Interactivity and multimedia in composition

Composing with technology
Program available here. All times are listed in Montreal's time zone (EST, UTC−05:00).
The event iX Symposium "Sound & Immersion" of the SAT on Saturday, February 6th, is sold out. While access to the web platform is limited to a small audience (already sold out), the events will also be streamed on Vimeo for all Forum participants.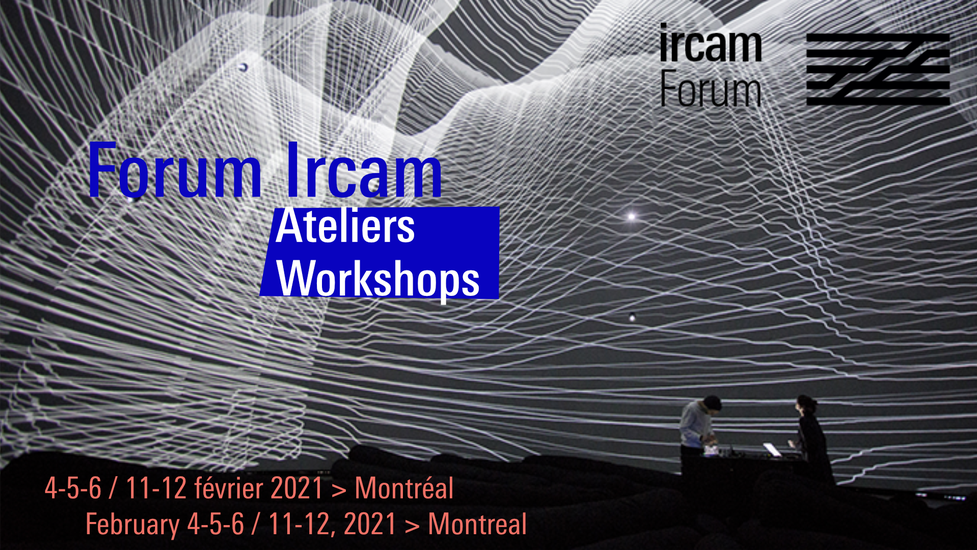 © Sébastien Roy, Interpolate by Woulg and push1stop, Société des arts technologiques
This event is co-organized with McGill University, SAT, Le Vivier, the Social Sciences and Humanities Research Council of Canada (SSHRC/CRSH), and Ircam Labs with the support of the French Institute.