The IRCAM Forum team participated in the selection jury of Mixage Fou 2020. It was a blind selection. We wanted to meet the candidates who won the subscription to the IRCAM Forum, to know what is their activity, their work process, their life path.
Here is David Michriki, winner in the Surround 5.1 category of Mixage Fou 2020.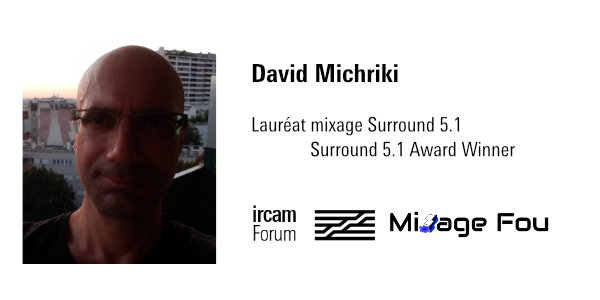 How did you hear about Mixage Fou and since when do you submit your creations ?
I participated for the first time to Mixage Fou in 2014 after a friend told me about it. I participated 5 times counting this year and was one of the laureates 3 times.
Tell us a little about this creation. What was your work process?
I had 3 weeks before I moved... so I didn't have time to recreate sounds. I concentrated on mixing using the raw sounds without too many "tweaks". I had fun reinterpreting the 5.1 test of the sound bank with a side of Egyptian Mozart. We work with what we have.
Which softwares do you use?
Samplitude Pro X4, FabFiter, Melodyne. 
Did you know about IRCAM softwares?
I know IRCAM by its reputation and by Pierre Boulez. I was also lucky to enter the anechoic chamber in 1992. But I have not had the curiosity to use your software. This is a mistake that I will correct!
What technologies from the IRCAM Forum would you find useful in your next creations?
Those related to voice synthesis would inspire me well.
--------------------------
Biography
Born in Paris, David Michriki began his audio-visual training at ISDEC in 1992, determined to create more music, being an amateur guitarist at the time. At the end of a 16mm short film creation in 2nd year, he creates with several students of his class, an association allowing him to realize over the 3 years, short films, plays, concerts, etc.. David Michriki is in charge of the sound creations.
He began his first sound recordings at the age of 20, equipped with a DAT and a couple of Beyer M260's. He then invested in other microphones and recorders to perfect his skills in sound recording and 5.1 mixing. The Home Studio is for him the ideal tool of creation.
He records, for his own pleasure, sound recordings of nature, ambiences, sound effects and music, all over the world (France, Guadeloupe, Turkey, Benin, Thailand, Europe).
He works with sound on films, documentaries, animations, etc., using sound creation and stereo and 5.1 mixing.
He has worked for 3 years in theater and for live performance and has been working for 18 years as a sound operator/engineer for live horse racing broadcasts on TV.