The IRCAM Forum team participated in the selection jury of Mixage Fou 2020. It was a blind selection. We wanted to meet the candidates who won the subscription to the IRCAM Forum, to know what is their activity, their work process, their life path.
Here is Jean-François B. Sauvé, winner in the Surround 5.1 category of Mixage Fou 2020.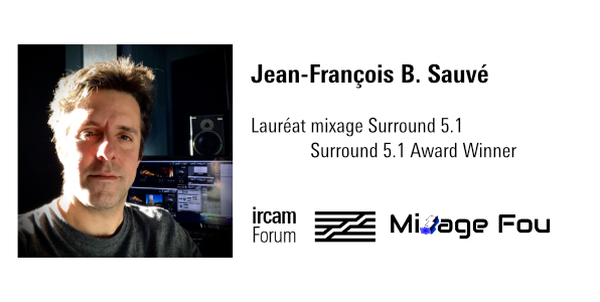 How did you hear about Mixage Fou and since when do you submit your creations ?
I discovered and participated in Mixage Fou for the first time in 2013. I had won some prizes for the 5.1 category. Unfortunately, I didn't have the opportunity to participate until this year when, confined at home, I had the time to participate and submit a creation for each of the categories!
Tell us a little about this creation. What was your work process?

 
It all starts with an attentive listening of the sound bank provided by Mixage Fou. Then I let myself be inspired by some particular elements of these sounds that I try to highlight. Being a sound editor by profession, I would say that my creations are both musical and cinematographic. I have a musical approach when I work with sound in an abstract way but I try not to impose a rhythmic or tonal framework. I consider each sound as having its own rhythm and tonality composed of a unique amalgam of frequencies. I like to work in an instinctive way, most of the time I let myself be inspired by the sounds as my creation takes shape.  I take pleasure in manipulating, transforming, shaping, arranging and spatializing all these sounds to finally try to reach my ultimate goal: to tell a story.
Which softwares do you use?
Lately, with all the time spent in confinement I had the opportunity to explore several software and plugins. Professionally, in my job, I use pro tools, but at home, for my personal projects, it's Reaper that turned out to be the main tool I used for crazy mixing! Of course, I use some basic plugins; eq, reverb, delay... But most of the manipulations I do are done directly in Reaper. I apply the editing techniques I use every day to sculpt the sounds in order to get the result I like. I love discovering new elements in a sound simply by varying its speed or inverting it. In composition, just like in sound design, I superimpose elements to create new ones. In order to spatialize each sound element, I used plugins from the IEM suite and Spat Revolution to finalize and transcode my 3rd order ambisonic mix into Auro 3D 9.1.
Did you know about IRCAM softwares? 
Very few. The first time I heard about IRCAM was several years ago during the sound design of a film where I had to transform the voice of a man into a woman. Someone advised me to try an IRCAM plugin. I think it was IRCAM trax vocal transformer which worked very well.
Which technologies from the IRCAM Forum would you find useful in your next creations?
I browsed through the list of technologies in the IRCAM forum and there are several plugins I'm eager to try including Audiosculpt, CataRT and Cleese.

--------------------------
Biography
Jean-François B. Sauvé is a designer, editor and sound artist in Montreal. He has been working mainly in the field of film and television post-production since 1996. At the same time, the need to express himself in a freer and more personal way leads him to explore a different form of sound art through the ticket of his compositions.
It is from recordings he captures in everyday life that he finds his inspiration. These sounds become his raw material that he shapes in order to create exploded sound universes.
He is rewarded for 4 of his creations at the 11th edition (2020) of Mixage Fou as well as at the 5th edition (2013) in the 5.1 multichannel category.
He was also nominated at the Dublin International Short Film and Music Festival (Best Sound Design) in 2020 for his sound design on the virtual reality animated short film "In the Land of the Flabby Schnook".
Winner and finalist on numerous occasions at the Canadian and Quebec Film Awards, his work has been rewarded for films such as CRAZY (2005), Rebelle (2012) and Race (2016).