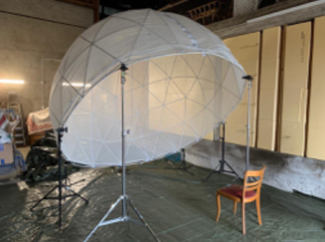 Luiz Perez-Bayas is a 3D / STEREOSCOPE film director. He is also a member of the IRCAM forum and sound designer. Neuroscience of S3D Relief Vision and 3D Space Hearing, Medical Neurologist and Psychiatrist.
Jean-Louis Davoigneau has been a member of the IRCAM forum since its creation in 1993. He is also a composer, a multimedia computer director, an acoustician, and creator of the STEPHANIE language and VERONIQUE acoustic (ceramic) as well as the PAOLA set (wfs + a pair of Veronique).
Immersive geodesic dome
Seeing and listening in a 45-degree tilted audiovisual dome where stereoscopic spherical vision and ambient sound are brought together is a major technological development.
On the perceptual level one can note the sensation of a spatial rendering with the impression that the sound sources are completely detached from the position of the loudspeakers.
Stereoscopic vision by specifying the relief of visual scenes allows us to locate and also to manipulate the objects present within our surrounding space.