Andreas Papakostas Smyris
Shaping noise in "Fragile" for ensemble and electronics
Abstract:
This presentation will focus on the electronic part of my piece "Fragile" for quintet and electronics. In particular, I will show some examples of how I use formant filters creatively, in order to shape prerecorded noisy sounds made from paper. The main mechanism for the control of the filters will be demonstrated through an Open Music patch, which will function as a base for the exploration of various sonic possibilities.
Bio:
Andreas Papakostas Smyris is a composer born in Greece. In his latest projects, he works with instruments and electronics, and his focus lies on the symbiosis of these two elements. He has acquired a Bachelor degree from the Aristotle University of Thessaloniki (Greece) and he is currently studying Master's in Composition with Marco Stroppa at the University of Music and Performing Arts in Stuttgart (Germany). He also plays the flute.
Bengisu Önder
"Make Horn Sing! The usage of live-electronics in "Almemorium" for cello and horn"
Abstract:
Would you like to learn a trick to turn the horn into a singing soprano?
This presentation is going to focus on the live electronics of my piece "Almemorium: Will you ever shine again?". I will show my way of working with the MaxMSP project for this piece. After the brief introduction of different treatments that I use, the main emphasis of the presentation will be on an intriguing discovery I have made with the horn sound. I am going to share with you this subtle yet quite effective treatment.
Bio:
Born into a musician family, she started her first music lesson, learning piano from her father, composer Burhan Önder. At the age of 11, she continued her piano studies at Ankara State Conservatory. In 2016 she was an Erasmus student at Frederic Chopin University of Music (FCUM) in Warsaw. During her year in FCUM, she took elective preparatory lessons for composition. After her graduation with honours from Ankara Conservatory, she was accepted to study composition at the University of Music and Performing Arts Stuttgart in the class of Prof. Marco Stroppa. In July 2019, in the frame of the Neue Musik Festival "Sommer in Stuttgart", she had the chance to work with the Ensemble Ascolta for her piece "Landscapes from Planet Sound". In 2020 and 2021 she was an active participant in IRCAM Forum Paris as a representative student of HMDK Stuttgart. In June 2021 she was an attendant of the Festival "ne(x)t generation" organised by ZKM, with her piece "In Depth of a Dream" as a representative student of the Studio of Electronic Music (StEM) of HMDK Stuttgart. Since October 2021 she is the tutor of StEM at HMDK Stuttgart. At the moment, she continues her Bachelor studies and for the 2021-2022 concert season she is also a one-year-academician at the SWR Vokalensemble Akademie.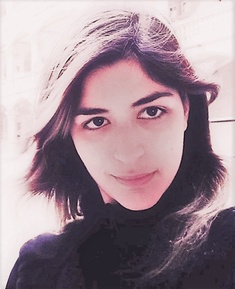 Brandon Lincoln Snyder
Applying (and Altering) a Machine Learning Classification Method in Live Electronics
Abstract:
This presentation breaks down the usage of a supervised machine learning classification method in my piece 'Shepherd' for voice and live electronics. While a conventional use of this classification method (a k-nearest neighbors algorithm applied to Mel-frequency cepstral coefficients data) would be to accurately recognize and distinguish different vocal-production techniques, I apply the algorithm in a way such that the program simultaneously exhibits 'decisive' and 'indecisive' behavior in the classification of my voice. These two output streams are then used to control digital signal processing.
Bio:
Brandon Lincoln Snyder is a composer currently living in Stuttgart, Germany. He grew up around jazz piano and contemporary church music. His work often involves instrumentalists, electronics, video, and occasionally himself as a performer. He holds a masters in composition from the Stuttgart state music conservatory, where he studied with Martin Schüttler, and holds a bachelors in music from Harvard University, where he studied with Chaya Czernowin, Steven Kazuo Takasugi, Vijay Iyer and Claire Chase. He is the founding director of Browser, a commissioning project for web-based sound art, and currently works as a researcher and teaching assistant at the Music Informatics Institute at the Karlsruhe state music conservatory.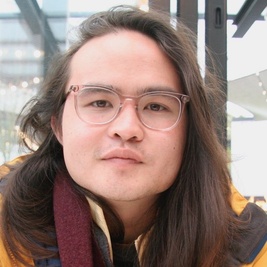 Will Kim
"Amplified Canvas: searching for a synergistic relationship between sound and the physical act of painting."
Abstract:
What if a painter approached a canvas thinking of it as a musical instrument? An amplified canvas refers to a setup where the sound of a paintbrush and charcoal applied on a canvas is sent to MaxMSP via contact microphones. Max effects are programmed as effect chains that are each assigned to specific visual gestures/colors/textures. Because the sound of the brush making contact with the canvas is amplified and processed with MaxMSP, a variation in the visual motif directly results in a variation in the rhythmic motif, or vice versa. Through three works for the amplified canvas, I will illustrate how I used MaxMSP to create unique relationships between the visual and sonic gestures, and also to explore visual art concepts like Hans Hoffmann's Push/Pull theory, Agnes Martin's calculated imperfection and Isamu Noguchi's idea of simplicity and musical concepts such as Salvatore Sciarrino's Big-bang-little-bang.
Bio:
Composer and baritone June Young (Will) Kim was born in 1996 in South Korea and has lived in Canada, United States and Germany. Since 2020, he has been particularly interested in exploring relationships between the visual and musical arts to create pieces where the two have a synergistic relationship rather than one being a byproduct or a mere trace of the other.
His music is published by Edizioni Suvini Zerboni and has been performed by ensembles such as Quartetto Prometeo, Syntax Ensemble, members of the Berlin Philharmonic, members of the International Ensemble Modern Academy and Ensemble Paramirabo.
He received his Bachelor in Composition from Indiana University Bloomington in 2018. Funded by the DAAD scholarship, he then received his Masters in Composition from the Hochschule Für Musik und Theater München, studying with Isabel Mundry. Between Feb. - Aug. 2021, he was a student of Valerio Sannicandro's mentorship program. He also received a II Level Masters in Composition from Conservatorio di Milano between March - Oct 2021 studying with Marco Stroppa, George Benjamin, Unsuk Chin, Klaus Lang and Alberto Posadas. Since 2021, he is pursuing a Certificate of Advanced Studies at HMDK Stuttgart, as a student of Marco Stroppa.
As a lyric baritone, he is currently studying contemporary voice performance as a student of Angelika Luz.
He is currently based in New York (USA) and Stuttgart (Germany)