Tao Xie, Yiyuan Sun and 

Yuan Zhang
Distance
Abstract :
This is a narrative about cross species communication and mutual understanding. In this way, we use experimental sounds to simulate the unknown biological language, such as using science fiction sound to simulate the language of another species, and  create interesting sounds for storytelling. It is also an abstract reflection on whether different individuals in the world can break stereotypes and misunderstanding if we can try to understand each other.
Bio :
Tao Xie has a background in visual communication and is doing the digital direction at RCA. He is interested in Buddhist philosophy and digital art. Through his practice in Buddhist Zen culture, he have learned to think dialectically and he focus on whether the design will bring practical experience and humanistic care to target group. With the use of symbols and metaphors, he want to encourage the audience to think beyond the surface and develop their own insights.
Yiyuan Sun is a Digital Direction student at Royal College of Art, and before that she completed a bachelor degree in Cinematography & Production at the Communication University of China. Her practice is about humanistic storytelling, using multiple media and focusing on subtle emotional expressions. She is interested in AI and machine learning and wants to explore the boundaries of machine, emotion and creativity.
Yuan Zhang, studying in the digital direction at RCA. She realised that cultures among different nationalities are hard to be understood by other people; similarly, the sufferings of different groups in life are also hard to be understood by other groups, because of the gap between contact and sense perception that detracts from understanding, however, she found that immersive art can change the gap.She hopes to use it to strengthen the connection between different people and races, especially to change people.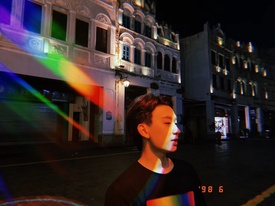 Yumeng Wang
Acoustic Acupuncture
Abstract :
What Interactive sound performance using Playtronica midi controller (Toucheme board) explores how different ways of touch affect sounds and people's sensation. How Mark points on people's bodies, then uses acupuncture points as a touch reference, creating a way to perform a relaxing sensory therapy, stimulating sensory nerves under the skin and in the muscles. The artist will invite the audience to try the experiment on the site.
Bio :
From Inner Mongolia of China, Yumeng Wang studied at the Royal College of Art Information experience design. Previously, she completed a bachelor degree in art management in IESA Paris. She studied fashion design part-time at ESMOD Paris and worked as a freelance fashion photographer and overseas fashion producer for ELLE China magazine. These experiences have given her the ability to work at a fast turnaround environment without sacrificing the quality of the content, as well as the appreciation of the global audience and subtlety of cultural differences.
Chunyi Shen, Savyna Darby, Shahwali Shayan and Udit Datta
Reparative Reverberations 
Abstract :
The project explores the dynamic healing quality of sound through the frequencies, rhythms and harmonies found in the natural structures of repair. A sound library was created by researching and recording indigenous practises of sound healing as well as recording sounds from different soundscapes in the natural world. Transitional states between these gathered sonic elements in relation to the effects applied on different parts and layers of the body is explored using software as well as manual sound editing techniques. Do we resonate with the sounds that emanate from the melding of cut plant fibres, the healing of a forest after fire, in the return of zooxanthellae to a bleached reef, the repopulation of a beehive, the regrowth of a shorn octopus tentacle? The participant is immersed in a sound experience that is at once spatial, visual and physical. Augmented reality is used to increase the feeling of immersion and intimacy by creating the ability to move through the sound library and distort the sounds through the integration of gestural interactions. Applied sound conduction with a body formed vest fitted with audio exciters moves sound beyond the aural sphere. Visuals that evoke the roles of harmony but also of dissonance in the process of repair are projected around the participant cocooning them in a zone of creative introspection. In a way this experience is at once an individual exploration but also the creation of a unique and purposeful orchestra. This project explores the sympoeisis of healing through sound.
Bio :

Chunyi Shen is a director, poet and music producer, currently studying for an MA in Digital Direction at the RCA. She is 23 years old. She previously graduated from a BA in Films. Her forte and interests revolve on the subject of AI, machine learning and psychology. Experimental sound narratives play a pivotal role in all her work.
Savyna Darby recently joined the RCA on an MA in Digital Direction, to hone her existing skills and learn new ways of telling stories through emerging technologies, and to explore the various possibilities of working with Sound to restore balance in health, natural ecologies, and build a sound bank of disappearing voices in older cultures.
Shahwali Shayan is a multidisciplinary designer currently reading for an MA in Digital Direction at the RCA. AR and interactive media have been the centrepoint of his work, with his AR experiences exceeding 2 billion views. He enjoys creating accessible digital experiences that are at the intersection of art & technology.
Udit Datta is a poet and sculptor whose work explores the synthesis of word and physical material in the creation of immersive experiences. His projects weave poetry between the digital and sculptural realms to transcend entrenched social and cultural rhythms. he is currently studyig an MA in Digital Direction at the RCA.
Arianna Savore, Leping Ji, Aggie Dolan, Xinyi Chen and Zafirah Mudasiru
Sugar Byte Idol Project
Abstract :
Our project explores the role of AI in modern society. To do this, we are using the lens of Vocaloid; primarily AI vocalist Haksune Miku, but also the 'moe anthropomorphism' used by virtual youtubers and influencers, such as Kizuna Ai and @/lilmiquela on Instagram. Haksune Miku was created as a marketing tool, a capitalist creation to sell Desktop Music Software; new material and content is often hidden behind a paywall. Yet, she has become a centre of creative expression. Fans create content based on Miku and, in these creative acts, make work that exists outside of the creative economy, an expression of free-flowing desire - or is it? We are exploring the interplay between restriction and freedom that comes with the normalisation of AI and Hatsune Miku. We have created avatars for our own virtual idol group which we are pairing with voice/music synthesizing software - replacing real instruments and voices with computer generated sounds and creating an immersive installation.
Bio :
Arianna Savore: I am a postgraduate student majoring in Digital Direction and with a BA in Art and Design. Interest in entertainment design and in my work I research the boundaries between new technologies and the creative/entertainment industry. Recent work has involved a 2D platform game and a 3D VR simulation. Leping Ji: I am an interdisciplinary media art student, working at the intersection of physical art, storytelling and moving image design. With a background in Technoetic Arts, I am currently studying an MA in Digital Direction at the Royal College of Art. I focus on creating immersive experiences and forming experimental narratives within alternative realities.
Aggie Dolan: I am a mixed media artist with a background in theatre production and design. I use projection, lighting and sound to create immersive, multi-discipline performances. Studying Digital Direction at the Royal College of Art, I'm learning how digital platforms and mediums can help me portray the my themes of embodiment, otherness and mind/body duality.
Zafirah Mudasiru: I am a multidisciplinary artist ​​who views storytelling as an evolving medium. I am currently a student at the Royal College of Art studying a Masters in Digital Direction. Through a range of processes - digital illustration, 3D modelling, animation, kinetic typography, video and sound - I focus on bringing my vision and philosophies to life in a mesmeric digital space.
Xinyi Chen: I'm currently a postgraduate student at Royal College of Art studying Digital Direction with a BA in Film and TV. My main focus and interest are on filmmaking and storytelling through different mediums varying from analogue to virtual reality exploring how digital technologies influence traditional cinema storytelling through various senses.
Yixuan Wang and Yiqing Chen
Parallel Bathroom
Abstract :
All the sounds in the space are produced in the space itself, the bathroom. A sound fragment stretches into a story, happening to the same person and in the same place. The same sound-producing objects produce different sonic textures which trigger different storytellings and different emotions. The works are posted online, through a bathroom VR. The audience can click on different corners of the bathroom to trigger sounds, trigger emotions and stories, and enter the parallel bathroom space. Hi,this is Parallel Bathroom.
Bio :
Yixuan Wang and Yiqing Chen are a team with backgrounds in Internet of Things Engineering, experience design respectively, currently studying at RCA Digital Direction. Yiqing focusing on exploring the liveness of technology as the ontology and discussing the meaning of technology to society in the context of technical culture, working as a creative designer and technical director for multiple brands. Yixuan Wang focuses on practical artistic creation, exploring information from people's living space. Master the skills of music production, and be good at using poetic expression methods to reflect social phenomena and provocations. She has produced sound narrative albums 'Back to 18th Floor' and made music for art projects. Our past experience involves using multiple technical media such as AR, VR, moving image and photography to do storytelling.
Liwei Yin
Pine Space
Abstract :
Pine space is to reproduces the spatial environment of a pine tree through sound and image. Using listening as a method for re-connection with the plants environment. Imagine the pine space through the sound generated by the pine behavior and the sound generated by the surrounding environment. Deconstruction and reproduction of pine images through the research of plant model L system, so as to enlarge the details we may ignore in our daily life.
Bio :
Liwei Yin is moving image artist and designer. She is currently studying in Information Experience Design at the Royal College of Art in London, UK. In her practice, she tries to explore the interaction between humans and plants with images, sounds and installations. She is interested in the concept of beyond the human future and explores how humans as a part of nature can better cooperate with non-humans.
Cainy Yiru Yan
Holy Hymn of the Air
Abstract :
This project is an immersive journey through a famous abandoned church about history, faith, and cultural memory—the complex relationship between humans and ruined architecture. The work is composed using verbal descriptions through local inhabitants, spatial soundscapes, experimental music, 3D-Scanning, creating a dynamic and abstract audiovisual experience that resonates with it briefly as a ritual.
Bio :
Cainy. Yiru Yan is a multimedia artist and director based in London and Beijing, currently studying Information Experience Design at the Royal College of Art. Her practice spans VR narrative, interactive installations, and immersive experience design. By presenting different stories through a mixed media narrative method, she believes that embracing new formats and technologies can help us tell better stories and open up new behavioral responses and emotional resonance for audiences between the real and imagined. Focusing on how media affects different sensory systems in the current era where information is read in increasingly diverse ways, reflect on this new mode of human beings' existence in the blurred perceptual experience of reality and virtual.
Nathanael
trespassing #3
Abstract :
This soundscape installation grapples with the rifts and the psychic restlessness I have experienced as a racialised person growing up in rural Germany. The Centre of this project is the sonic transmission of the dissonance between the rural idyll and the always present anti-blackness. The installation aims to create an audio-visual relationship that explores this highly charged and ambiguous racial landscape of southern Germany. The soundscape documents the conflicting environment and is supported by a small assemblage of photographs that contextualises the sound geographically. I conceive of this demo as an undertaking against the impossibility of black Germanness, and, thus, an imperative for Black multiplicity.
Bio :
My name is Nathanael and I am a music composer/producer with an evolving practice mediating between popular music and sound art. In addition to sound creation, I have an interest in critical theory in the wake of Frankfurt School, postcolonial and Black feminist interventions. Questions raised in these fields of study have had an increasing influence on my practice.
Qianhao Chen and Yuxin Huang
Armorial Bearings
Abstract :
Discover some unique and rhythmic tones in the forest, classify them according to the high and low scale, and merge them. Let the experiencers play their own forest symphony according to the changes of gestures. The importance of expressing the interconnection between human modern life and the natural world Sex, trying to awaken the disconnected state of mechanized life/technological life and the natural environment and reconnect with the natural world. Encourage people to think differently about the relationship between life and nature.
Bio :
Qianhao Chen and Yuxin Huang of the group are first-year students of Information Experience Design from the Royal Academy of Art. Qianhao Chen focuses on the study of the relationship and interaction between humans, nature and machinery. He has extensive experience in the field of mechanical manufacturing and product interaction and has worked in the Philips medical interaction design team. Yuxin Huang is a designer who specializes in visual expression and installation art research. She is committed to interdisciplinary research and has a strong interest in the fields of sound, machinery and textiles.
Amy Cutler
AREA/ARIA
Abstract :
This live demo adopts the operatic principle of the "rage aria" as an environmental protocol. Using field recordings and a synthetically produced chorus, it explores the submerged audio-visual substance of grief and anger in a landscape. It draws primarily on hydrophone recordings ay Borssele in the Netherlands, the site of a radioactive vault and nuclear water expulsion site, as well as fossilised remains. Inspired by the jellyfish blackouts of Borssele's power station, this sound work takes form as an aggregation of hidden signals – but also simultaneously a play on the emotional capacity of vapourwave in an Anthropocene context.
Bio :
Dr. Amy Cutler has a PhD in critical geography and works with sound, film, and unusual designs for audience experience. Her key projects include the internationally touring live cinema production NATURE'S NICKELODEONS, which most recently took place at The Exploratorium, San Francisco, and All Her Beautiful Green Remains in Tears, a nature documentary re-scored and re-narrated by machine learning. She has released several solo albums which experiment with concepts of landscape, from field trips to pathetic fallacy, and she often works with DIY instruments and forms of audiovisual hacking. Her first solo album was Örö Tape (Fieldtrips of the Damned) in 2020, based on a solo month residency in winter on an uninhabited military fortress island.
Shontelle Xintong
Augmenting Morphology: a Sonic Cabinet of Curiosities
Abstract :
In the project "Augmenting Morphology, a Sonic Cabinet of Curiosities", a soundscape is able to bridge fiction and reality. The artist investigates new insights into spectromophology and biological morphology in micro. The aesthetics of electroacoustic narratives and bio-visualization emerge from a speculative acoustic territory from a Wunderkammer (Cabinet of Curiosities) of a fictional post-specimen museum. The collections of unknown and fantasy objects are AI-generated specimens based on real microscopic images observed by the artist. The artist explores the potential role of machine learning and computer-assisted composition in the process of curating, analyzing and generating the sonic, visual and textual variations associated with fictional specimens. The audiences get to perceive and build the knowledge of fictional specimens when processing and fusing multiple modalities simultaneously, particularly in this project, is the engagement of vision and audio. By exploring the multimodal storytelling and combinatory creativity of a series of specimens and sound effects, sensory information begins to flow, migrate and further create novel enigmatic mood and memory. Noise is constantly generated under the collision of synthesizer, code, image data. The establishment of spectral spatiality is contributed from granular synthesis and microsound in composition. Within an immersive audiovisual environment, the audiences observe the Cabinet of Curiosities included AI-generated microbes and sound objects. This project intends to envelop data sonification, sound synthesis and digital image analysis of machine learning via open-source computer vision, Wekinator, and MAX/MSP etc.
Bio :
As a bio-inspired designer and interdisciplinary researcher, Shontelle Xintong Cai is currently based in Toronto and London. Her works explore the intersections of design, art, science and technology. She experiments with information visualization, experience system and multimodal interaction with audiovisual communication technologies, programmable materials, 'moist media' and life science data. Her art and design practices are influenced by her academic background related to visual communication, digital media studies and plant physiology. She considers Design as Discussion: a design protocol centring around the non-human and ecological approach by sensory narratives and fictional objects. She critically and parametrically engages in designing the innovative dialogues between complex scientific knowledge and cross-sensory experience. To practice the design methodologies and transmedia storytelling via scientific systems and computation, she opens the discussions about the inherent values of more-than-human participatory research, technoscientific interventions, synthetic bio-design, political ecology and objecthood to the potential audience. She has shared her creative practices and design paradigm through several workshops, symposiums and exhibitions in China, Canada and the United Kingdom.
Krishnan Ghosh, Kailin Zhang and Qianqi Zhou
Listening to the Gems
Abstract :
The project is an interactive experiential installation of quotidian sounds layered with those unheard sounds of London. The installation focuses on certain parts of the city and enables the user to listen to the sounds of those parts. The user or the experiencer interacts with the installation by connecting and rearranging jump wires on a circuit board to play a different sound for every combination. The combinations are limited so that the user chances upon the combination that triggers a light that shines onto a part of the installation to create the shadow of a QR code which reveals the hidden aural layer to the experience. This QR code will contain those less heard sounds of London, creating a different sound based narrative about the city.
Bio :
Our group has three members from the Digital Direction(MA) program, Royal College of Art- Kailin, Qianqi and Krishnan.
Kailin Zhang, whose background is in painting and film, video animation directing, is now interested in interactive art and believes that interaction is a new approach to storytelling.
 Qianqi Zhou: I am a designer who works with digital media and software to explore different ideas. My work questions what it means to be human while allowing audiences to critically consider who they are.
Krishnan Ghosh: I am a spatial narrator, trying to tell stories with spaces as my medium. These spaces can be physical, virtual, tangible or intangible.