Abstract :
Can a CD production or a digital production for streaming be considered the final goal of a composition? The "Music for Headphones" project deals with the issue of everyday music listening, which in most cases happens through headphones or earbuds.
In this presentation, we will discuss the project's social and psychological aims, as well as our search for a "virtual concert hall" and its listening experience. One could transcend physical body restrictions, e.g. due to pandemic restrictions, and experience three-dimensional listening within a hybrid body in augmented reality.
We will briefly discuss the technical aspects by showing the workspaces in OpenMusic, Max/MSP and how the material is finalised in a DAW. Special attention will be paid to the binaural spatialisation techniques, especially in OM-Prisma and the library SPAT.
Bio :
Marco Bidin
Marco Bidin is a composer, organist and harpsichord player. After graduating in Organ, he studied Early Music in Trossingen and Contemporary Music performance in Stuttgart, where he also completed the Terminal Degree in Composition and the Certificate of Advanced Studies in Computer Music under the guidance of Marco Stroppa. He lectured, gave courses and performed as a soloist in Europe and Asia, and his compositions have been performed in Germany, France, Portugal, Italy, Canada, South Korea, Japan and China.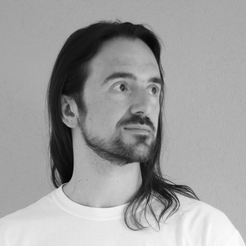 Tiange Zhou
Tiange Zhou is a composer dedicated to interactive audio-visuals and other integrated art forms. After graduating from Manhattan School of Music and from Yale University, she received her PhD in Music from UC San Diego in 2021. Tiange works as a music consultant for NetEase Cloud Music, an online music streaming platform with 60 million users. She has co-founded Dimension Institute, an art & technology company with other Yale Alumni. Tiange is also hired as a collaborative artist for Harvard Chinese Art Media Lab. Her works have been performed and exhibited in international festivals and venues worldwide.