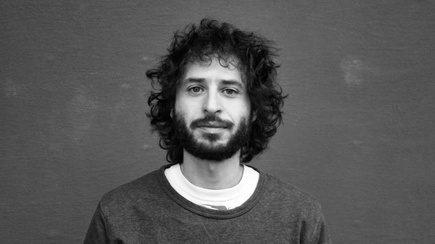 Fabrizio Di Salvo was born in Switzerland and is of Italian origin. His works are at the boundaries between experimental music, contemporary composition, sound installations and scenic art, focusing on concepts that examine models between politics and social life. He obtained a Bachelor in Sound and Media Art at the Hochschule der Künste Bern and a Diploma as sound engineer. He has attended workshops and master classes with Cathy van Eck, Gilbert Nouno, Helmut Lachenmann, Malcolm Braff, Angela Körfer-Bürger, Stefan Prins, Simon Steen Andersen, Dr. Johannes S. Sistermanns, Teresa Carrasco and Urs Peter Schneider i. a. As  composer, choreographer and sound artist his works were shown at Milano Musica, Theater Basel, Theater Rote Fabrik Zürich, Theater Paco Rabal Madrid, Theatre Conde Duque Madrid, Theater Roxy Birsfelden, Neues Theater Dornach, Tanztage Berlin Sophiensæle, Schwankhalle Bremen, Münchner Kammerspiele,  Museum der Kulturen Basel, Landesmuseum Zürich, Kunsthalle Winterthur, Kunsthaus Baselland, Kunstmuseum La Chaux-de-Fonds, Arcaden Gallery Berlin, Fondation l'Abri Geneva, Interdans Festival Belgium, Les Digitales Festival Bern, Neu Bad Luzern, Dampfzentrale Bern i.a.

Currently he is attending the Master in Contemporary Art Practice with Minor in Composition at the Hochschule der Künste Bern. He sees himself as a bricoleur and alienates both materials and compositions in search of a coherent, subjectiv experience. This can lead to sound installations, new instruments, choreographies or compositions and the results can be understood as highly interdisciplinary. His work levitates between the visible and the invisible, the choreographed and the quotidian, the silent and the loud. Fragility is the experience of the sensitive, the compassionate, the emphatic and of profound strength. This understanding lies at the core of his work and experience, as the most important means of his artistic practice. Experience that is not subordinate to a goal, but celebrates the moment of joy among one another and can thus be perceived as a creative impulse and starting point of every work. 
theoneandthemany
theoneandthemany is a play for one performer and one table. By connecting a motion sensor, the table becomes a giant knob. By turning and tilting the table a text is played back and forth. What allows the performer to play the text like a reel to reel tapmaschine. The piece takes the audience on a journey to the mechanisms behind the echo chambers of the Internet and explores the veracity and construction of today's truth. This musical object is interpreted in situ by the dancer Sol Bilbao Lucuix.
oneandthemany is reflecting the term "Echo chamber" that refers to situations in social networks, where specific kind of opinions and convictions are strengthened and spread through the repetition and the continuous communication among users who share the same kind of thoughts inside a closed system.
In the political context, indeed, the "echo chamber" feed and proliferate, by repetitions, specific tendencies, generating the polarization of political ideologies among people, due to the fact that their own convictions and orientations are approved and confirmed by more like-minded people.

Fabrizio Di Salvo: concept, realization, creation
Sol Bilbao Lucuix: performance, creation
Seven Chosen: Text - "The Conscience of a Hacker" by Loyd Blankenship 1986