Posted by: shinjukuboy 1 year, 10 months ago
Abstract :
Sasha Wilde, Nicole Bettencourt Coelho and Yuki Nakayama are a trio of sound nerds who met last year and began bringing their various skills and practices together to form an experimental audio band. They employ wearable gestural technologies, real-time sound design and processing, and interactive composition to create one-of-a-kind one-off performances, where there is a constant call and response between the threesome, as well as the audience. This is a sound performance that responds in real-time to each other's bodies on stage and gauges the energy in the audience to co-create sound that immediately corresponds to how it feels to be in the space here and now. Live instruments and Sasha's haunting vocals meet analogue and digital processing, switching between audio and midi signals, where custom programmes designed in Max MSP use movement to trigger sound samples that are panned multi-directionally, always utilising the whole space for sounds to emerge from, rather than settling for the traditional stereo directionality. This is also reflected in the trio's positioning where they stand in a circle, in the middle of the space and move around it freely rather than being on stage, therefore avoiding the asymmetrical relationship between the audience and the performers. Instead, the very idea of the stage is renegotiated. Eventually, the generativity and co-creative interaction reaches the point where it is no longer immediately clear who is triggering which sounds, effects and instruments, as the interconnectedness of all the participants intensifies. A shapeshifting feast ensues.
Bio :
Nicole Bettencourt Coelho is a sound therapist, hypnotherapist and a session musician. Following a year in residence at Music Hackspace, hosting events to research how to induce and harness the transformative effects of trance within sound and movement, they are currently utilising MAX to design interactive applications that incorporate bodily presence and movement  for non-linear composition and poetic engagement with technology. Nicole performed at Glastonbury, Somerset House, Whitechapel Gallery, Royal Albert Hall, Cafe Oto.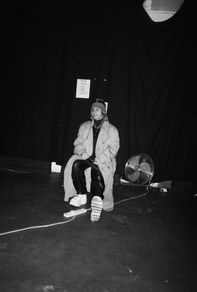 Sasha Wilde is a music producer, songwriter, vocalist and a performance artist, who employs Mi.Mu gloves in their practice. Artist collaboration has enabled Sasha's practice to span a variety of mediums, leading to international performances, composing sound for films and publishing their writing. They are currently a resident artist at Sodas2123 in Lithuania. They also have been selected for Titanik A.i.R sound residency in Finland in 2022; and will work with 71 Bodies theatre company in Norway.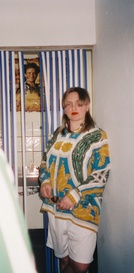 Yuki Nakayama is an audio engineer, multi-instrumentalist, and a composer who works in symbiosis with visual art and performance. Yuki is classically trained and piano is his/their native language, but Yuki also plays guitar, synthesizer and violin. Yuki is currently studying a BA in Audio Engineering at SAE Institute. He/they are collaborating with play-maker Matisse Ciel Pages to create a soundscape for Salt Water; and co-creating, sound designing and composing for an animated movie with Ken Marceau Nakayama, a 3D concept artist, as a way to reclaim the narrative of our broken childhoods.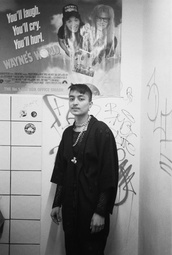 Back to the abstracts collection 
Share on Twitter
Share on Facebook