To access Forum Premium softwares AudioSculpt, CataRT Standalone, Panoramix, Orchids and SuperVP Trax, become a Premium member by subscribing to an individual or annual subscription. Premium access offers:
Download premium technologies, update them and activate them for a full year.
Once the subscription year is over, the software remains valid and usable. However, the user no longer has access to updates and the ability to generate an activation code.
How to authorize a software?
After launching the software, you might see this :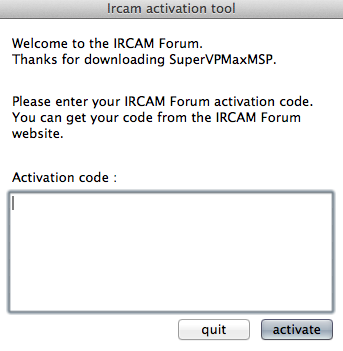 To generate an activation key, go to your shop account. The generated key is valid for 15 days once the mail. Copy the key in the activation window of one of the Ircam software. An activation key authorizes all forum software on your machine, whether already downloaded or not. One key is therefore sufficient for each renewal of your annual registration or during a change of computer - OS.
If you encounter any problem, please do contact the  sales support.