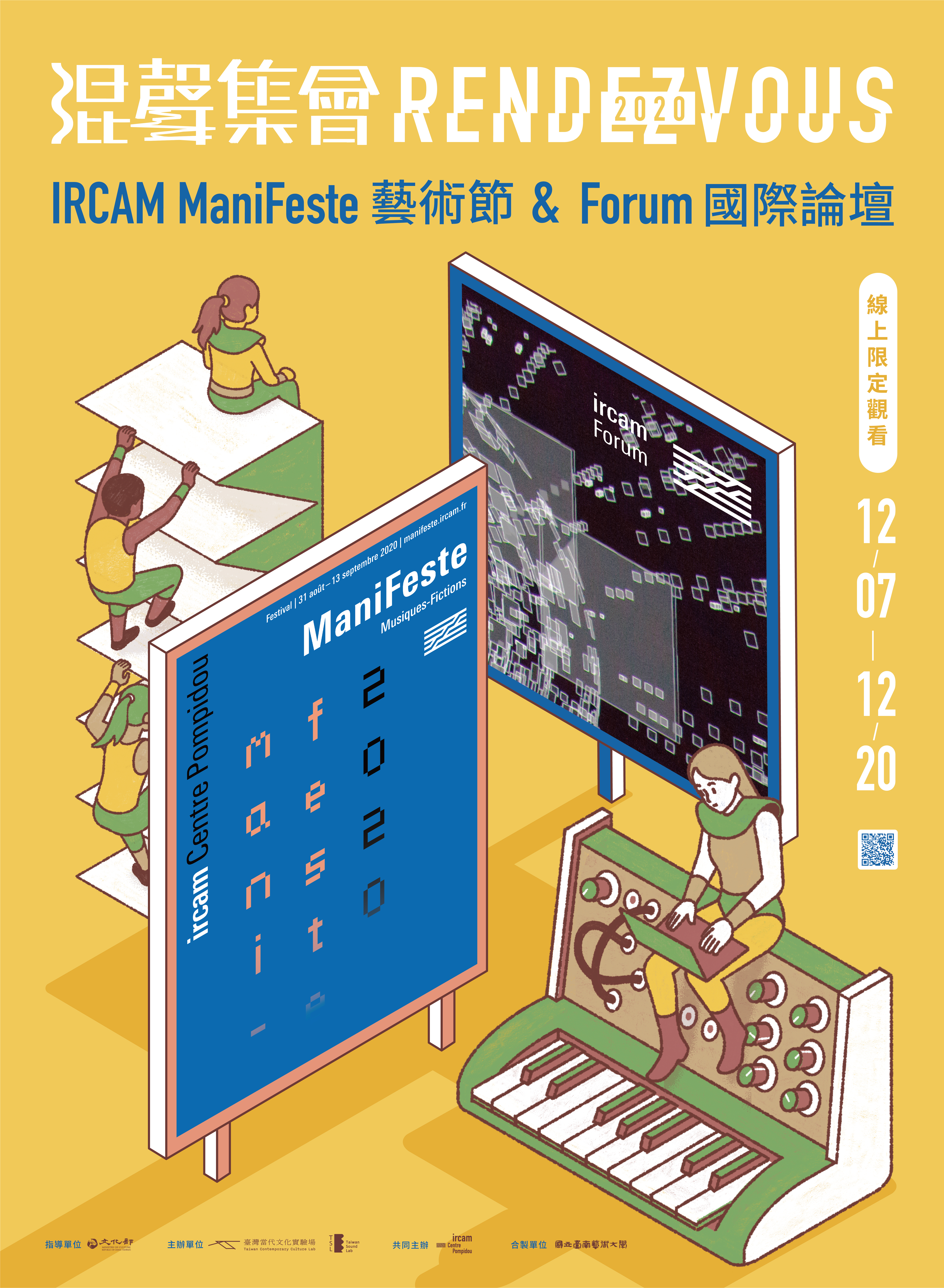 IRCAM Forum is part of Taipei TSL Rendezvous 2020

December 16-20, 2020
From December 16 to 20, the Taiwan C-Lab (TSL), in collaboration with the Ircam Forum, invites Taiwanese and French speakers to dialogue around the themes of "music and improvisation" and "spatial sound and virtual reality", exploring the role and development of improvisation in musical performance, the spatial creation of music and sound, and how virtual reality creates a new listening experience and stimulates new thinking about music and sound creation. Resources will be available on the C-Lab/Sound Lab website, featuring presentations by Ircam speakers on their research areas as well as pre-recorded one-hour roundtable discussions:
Free, without registration

Find the speeches (translated and surtitled in Mandarin)
As Europe falls sharply under the impact of the COVID-19 pandemic that causes interruption of international exchange, the C-LAB Taiwan Sound Lab has revised its strategy by replacing scheduled physical events with digital presentation. The "Rendezvous 2020" is an online event that presents works created during the IRCAM ManiFeste festival and the IRCAM Forum. This event is conceived in collaboration with IRCAM and "Good Vibration 2020", offering a sensory feast to the public with original musical and sound performances.
The "Good Vibration!" is a series of musical and sound creative projects undertaken by the TSL. It regularly invites composers and sound artists who employ ambisonics to create and present their works, in order to explore the possibilities of musical and sound works in terms of space and orientation. The events of "Good Vibration 2020" will take place in the venues at the C-LAB in relays. It features the brilliant projects by several audiovisual artist groups from home and abroad, including the performance of contemporary musical stereo sound field in collaboration with the IRCAM, and Beethoven and Our Time organized by the TimeArt Studio in commemoration of Beethoven's 250th birthday. Encompassing different types of events (e.g., audiovisual art, contemporary musical performance, and electronic music), and harnessing the powers of musical and audiovisual creations of all stripes, this festival not only appeals to people's visual and auditory senses, but also helps them develop their sensitivity in listening.