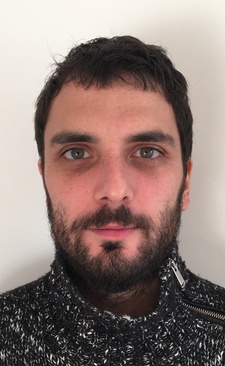 Pierre Guillot has a doctorate in Aesthetics, Science and Technology of Arts, specialising in Music. He presented his thesis at the University of Paris in 2017 as part of the Arts-H2H Laboratory of Excellence programs. Throughout his research career, he has participated in the creation of numerous projects and tools for music, including the HOA ambisonic sound spatialization library, the Kiwi collaborative patching software or the multiformat and multiplatform plugin Camomile. Since 2018, he joined IRCAM within the Innovation and Research Means department, where he is in charge of the development of the AudioSculpt project and its derived products.
TS2 presentation (with Frédérick Rousseau and Matthew Harris) 
Workshop on Camomile - Canceled
Camomile is a software tool for generating audio plugins in multiple formats (VST, AudioUnit, LV2) from Pure Data patches in order to use them directly in digital audio stations (Ableton Live, Reaper, Logic, etc.).
As part of the Ircam Forum, participants are invited to bring their Pure Data patches to transform them into plugins (a set of patches will also be available for people who have no content to propose). Depending on the ideas, needs and questions of the participants, the different steps of plugin creation will be presented, such as audio signal processing, MIDI event transmission, or the reception of playback head information. At the end of the session, participants will leave with the plugins they have made.
Link to the project: https://github.com/pierreguillot/Camomile/wiki
Download Camomile now: https://forum.ircam.fr/projects/detail/camomile/ 
Participate to the discussion room dedicated to Camomile: https://discussion.forum.ircam.fr/c/camomile