Why should we wait in our warm studios and labs?

Since it's inception, the Forum has organized workshops at IRCAM. For the past two years, it has also held workshops in other locations, invited by universities, research and art centers worldwide.

@Instituto de Artes Mauricio Kagel, UNSAM
We are taking researches and developments pieces, few creation examples made by technologies, a decade of experience in teaching and… a small piece of "extravagance" and boum we are going out the walls!
The Forums at Ircam and beyond (Hors les murs) reflect a connection between France and important international places by creating an unique musical synergy. Besides, the Forum is facilitated by a transmission dimension and mutual exchanges. But beyond these aspects, what are the main objectives?


To discover, reconnect and develop new IRCAM technology users' groups for music and sound


To create partnerships with research institutes and companies


To create a venue where Forum members can meet each other and members of our educational, artistic and scientific teams in situ



In this regard, our latest workshops were held in Latin America :

Buenos Aires - October 29 & 30, 2015

Invited by Carlos Rusta from UNSAM and the Area de Artes Sonoras directed by Sebastien Verea, we were joined by a hundred participants from Argentina. We were able to present our R&D department and our creations. We were also able to show the tools we have created for computer music to small groups with Max and using SmartInstruments.




"It's the first forum that we are making in Argentina. And for us, it is important to show practically how we can help artists to get their goals, their desires and their dreams" (Frank Madlener, director of IRCAM)



On this occasion, composer Sebastien Rivas taught a composition master class and presented the Argentinean premiere of his opera, Aliados, at the Teatro San Martin. Adrien Mamou-Mani, a researcher at IRCAM, demonstrated the technologies for SmartInstruments developed by the Instrumental Acoustics team and used today by the guitar group Camerata Argentina de Guitarras for the Marathon Acustica y electronica at the Centro Experimental Mauricio Kagel. Finally, the composer and computer-music designer, José Miguel Fernandez, led a beginner's level workshop on Max and real-time systems.
Look here at the detailed program of these workshops. A discussion group will be created soon
@Instituto de Artes Mauricio Kagel, UNSAM
What happened in Buenos Aires Forum?

[embed]https://www.youtube.com/watch?v=hPkOuamsu9Q[/embed]

Sao Paulo - November 4-6, 2015
Invited by a consortium of three universities (USP, UNESP, and UNICAMP) and their coordinators Rogerio Costa, Flo Menezes, and Stephan Schaub, the Forum brought together and consolidated an important community of IRCAM Forum software users. This community was already extremely active through past collaborations with the IRCAM research teams, particularly with the Musical Representations team.



"Assim, a proposa é criar um ambiante propício para a transmissão de conhecimento e para o desenvolvimento de excelência artística" (Concertino, portal de pesquisa da música clássica)




"The idea is to create an environment conducive to learning and the development of artistic excellence" (Concertino, Internet portal of classical music research)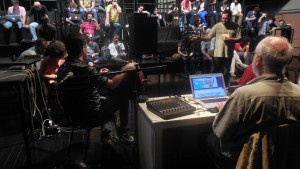 Over 190 participants took part in this event. The presentations and conversations were particularly stimulating (usability tests, meetings, show cases, concerts, press meetings, etc.). Mikhail Malt, from IRCAM's educational team, led a workshop on improvisation with OMAX that ended with a fun jam session. Emmanuel Jourdan (who has a three-fold role in the Forum: technology coordinator, teacher, and MAX developer) led a Max workshop. The director of IRCAM's Research and Creation Interface department, Arshia Cont, offered a workshop on Antescofo and gave a presentation on the R&D carried out at IRCAM. Jérome Combier, composer, was with us for this adventure! He taught a master class on composition and was present for the Brazilian premiere of Dawnlight. Alessa Camarinha, one of the Forum participants, presented her project Skin Conductivity and Machine Learning on Skin Voice.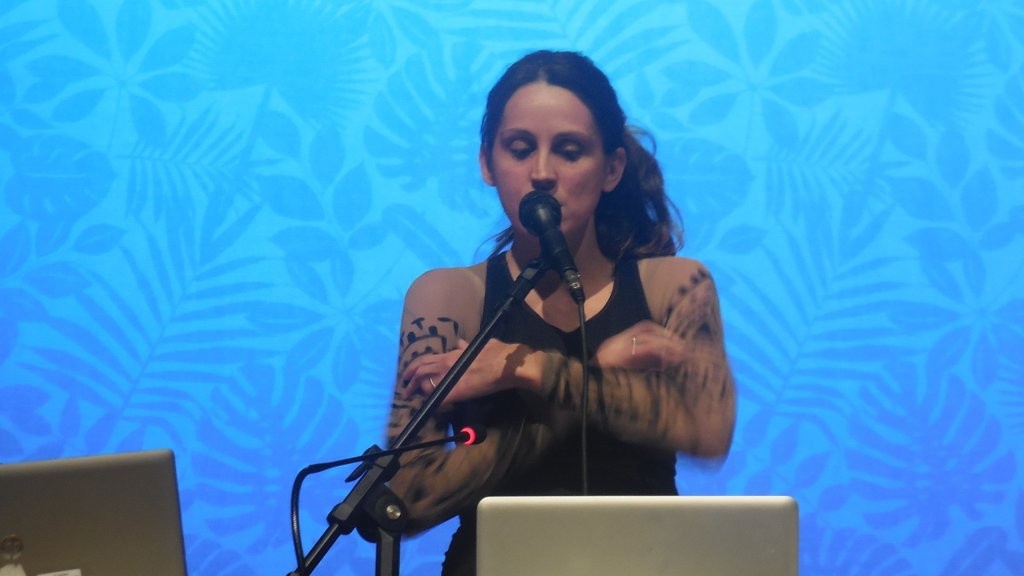 Two concerts were held at the SESC Consolaçao (organized by Flo Menezes and the studio PANaroma) with performers from Camerata Aberta and IRCAM computer-music design! In addition to Jérome Combier's Dawnlight other works were presented; Closed loop (A. Platz) and Anthèmes II (P. Boulez) and works by composers who followed IRCAM's Cursus program: Tatiana Catanzaro and Alexandre Lunsqui. Flo Menezes presented Transcriptio performed by the violinist Claudio Cruz.
The last evening, a concert was held at UNESP with performers from USP and UNICAMP using OMax Video, OMax Audio, and Smartinstruments. The Forum workshops in Brazil created a great synergy among French and Brazilian artists.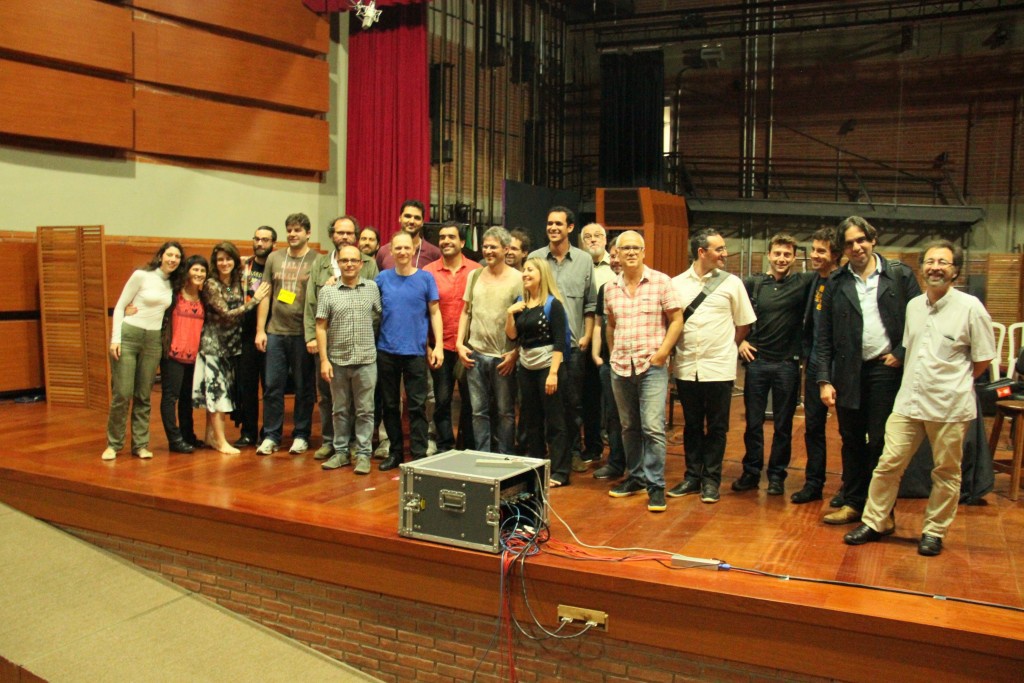 Look here at the detailed program of these workshops. The Sao Paulo Forum continues here in this Brazilian discussion group.
The First "Forum Ircam Hors les murs" Workshops Outside Paris
The first meeting outside Paris was in Seoul (April 29 – May 1, 2014). We were invited by the CREAMA at the University of Hanyang.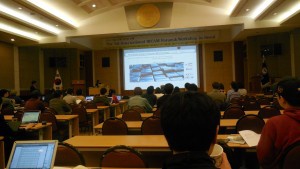 What was the impact generated by this Forum ? These are 90 participants from 8 countries (South Korea, Japan, Taiwan, China, the Philippines, Singapore, France, and Germany) who were present. A selection of Asian institutions showcased their projects and current research (TransArt Taiwan, KAIST/Audio & Interactive Media Lab, Keimyung University in Daegu, Kai-nan University of Taiwan, Tokyo Denki University in Japon, Dankook University and Keams from South Korea, Institute of Applied Arts/National Chiao from Taiwan).
During this event, we took part in the creation and organization of three concerts :
On the program, works chosen from the IRCAM repertoire and by Asian composers, as well as works by young composers from IRCAM's Cursus program. The Korean ensemble, TIMF performed with computer-music design by IRCAM.
This event was also marked by the Asian premiere of Partita II for violin and electronics by the French composer, Philippe Manoury, performed by the Korean violinist Hae-Sun Kang. Kang is known for having premiered Pierre Boulez' Anthèmes II, as well as performances of Wire and Wool by Ashley Fure and L'esprit des dunes by Tristan Murail.
The second concert was produced with the TIMF ensemble and was entirely dedicated to a new generation of young composers from IRCAM's Cursus program on computer music and composition.
The Forum Ircam Hors les murs is supported by the Institut Français, the network of local Institut Français bureaus, public partnerships, and private local funding. The Hors les murs events aim at creating a long-term collaborative environment, making it possible to establish common development goals or computer-music design with local teams (scientific or technical).
The next Forum Ircam Hors les murs will be held in 2016 in Taipei and in 2017 in Santiago and Bogotà. Calls for proposals and the themes addressed will be available online in March 2016 on forumnet.ircam.fr
Follow us on Twitter #ircamforum