Mixage Fou is a non-profit association  backed by a team of sound and listening professionals. Since 2009, the Mixage Fou competition has brought together over 1,000 creations from 20 countries. 
Forum Ircam is co-organizer of the 12th edition of Mixage Fou.
Cut, transform and mix without limits to create an 80-second sound creation from the sound bank on offer. No age limit, open to amateurs and professionals. Free of charge.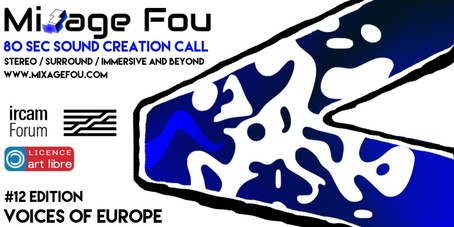 80sec Sound Creation

SOUNDS TO MIX
The Mixage Fou 2023 sound bank is available for download from www.mixagefou.com (opening on September 12th). The sound creation must be based solely on the proposed sounds. It is not to use them all.
THEME 2023 : VOICES OF EUROPE
Mixage Fou has teamed up with the project "Danse l'Europe!" (a project of the Ministry of Culture as part of the French presidency of the European Union) to offer the 2023 sound bank. Composed exclusively of voices from all over Europe, inspired by a text by choreographer Angelin Preljocaj. 
24 official EU languages, plus Ukrainian.
Total freedom in the choice of tools and techniques. Possibility of stretching sounds, inverting them, adding echoes, crossing sounds, etc.
Stereo, Ambisonic (any order), Binaural, Dolby Atmos and Open Channels (any speaker position).
Send your contribution here.