The auditive qualities of rain can seem arbitrary, but there are complex systems involved; the distribution of each drops position, size and quantity are some of the many elements that affect the sound of rain. In the sound installation Electric Rain Krems (2022) the sounding properties of rain are explored through a large number of sound-objects. Ninety-six individually controlled speakers are situated in the exhibition space Klangraum Krems, enveloping the listener in a three-dimensional soundscape.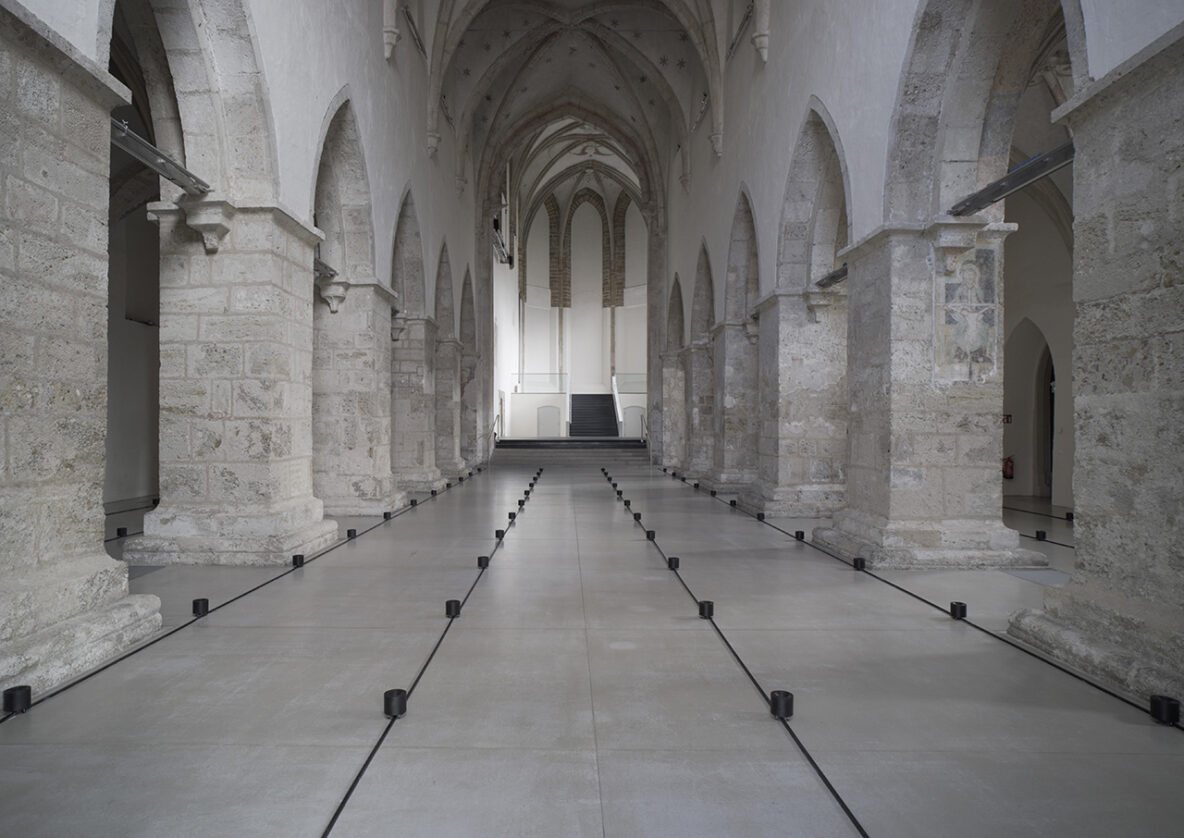 Photo: Asbjørn Blokkum Flø. 
Klangraum Krems is a space for sound art and music in the Minoritenkirche, a former monastery church from the 13th century. The Minoritenkirche is located in Stein an der Donau, an old medieval city along the Danube River. The acoustics of the old monastery church creates a clear and open sound, with a long reverberation time. The space is divided into three parts, two aisles and a central nave, where the nave has more than double the ceiling height of the two aisles. The divisions of the space provide natural acoustic separations in which the sound installation can interact.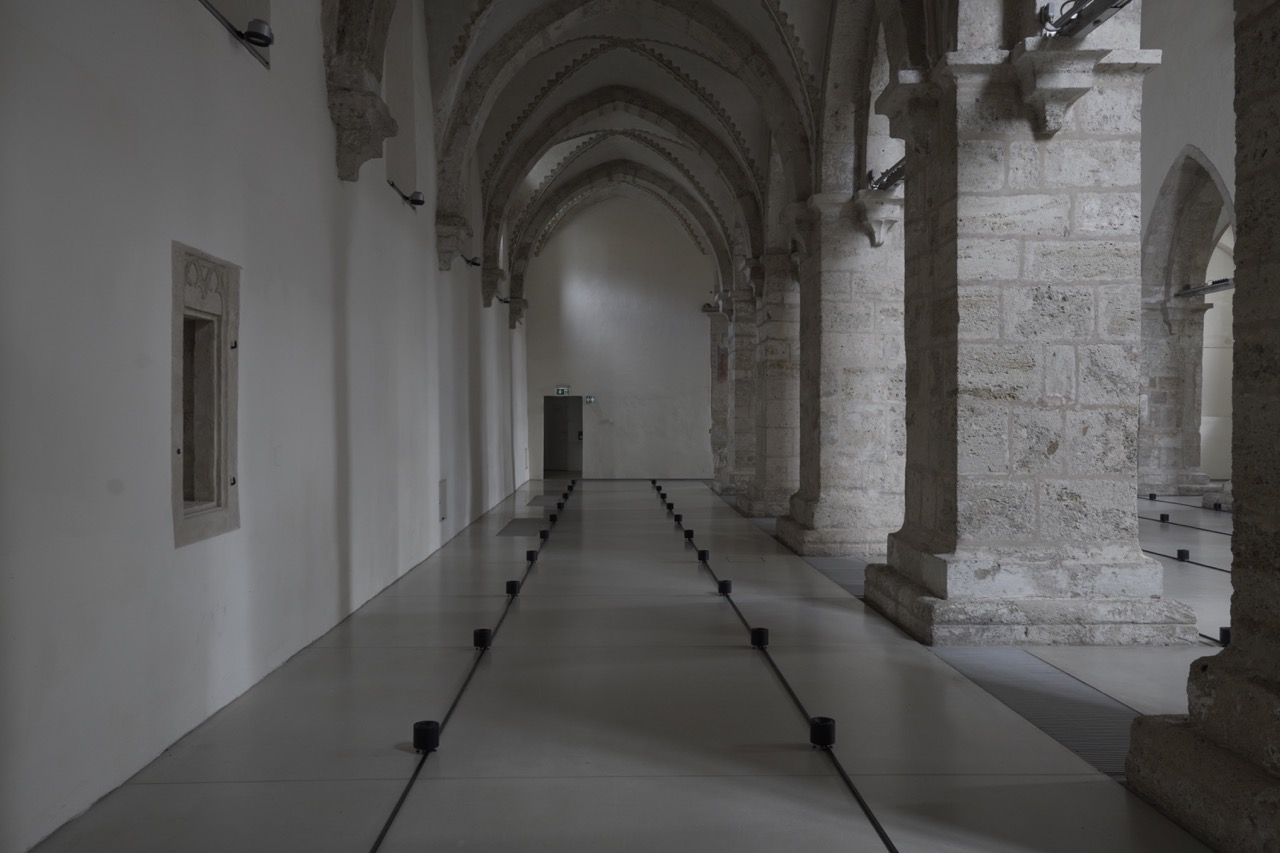 Photo: Asbjørn Blokkum Flø. 
Custom-built electronics
Using the MADI standard, three thirty-two channel DA-converters feed a custom-built ninety-six channel amplifier. The custom-built loudspeakers use coaxial speaker elements. This results in a more even radiation pattern, and the cylindrical speaker cabinets are also designed with a more equal radiation pattern in mind. Circuits and circuit boards for the amplifier and the loudspeaker crossover was designed in collaboration with Hans Wilmers and Thom Johansen at Notam (the Norwegian Centre for Technology, Art and Music).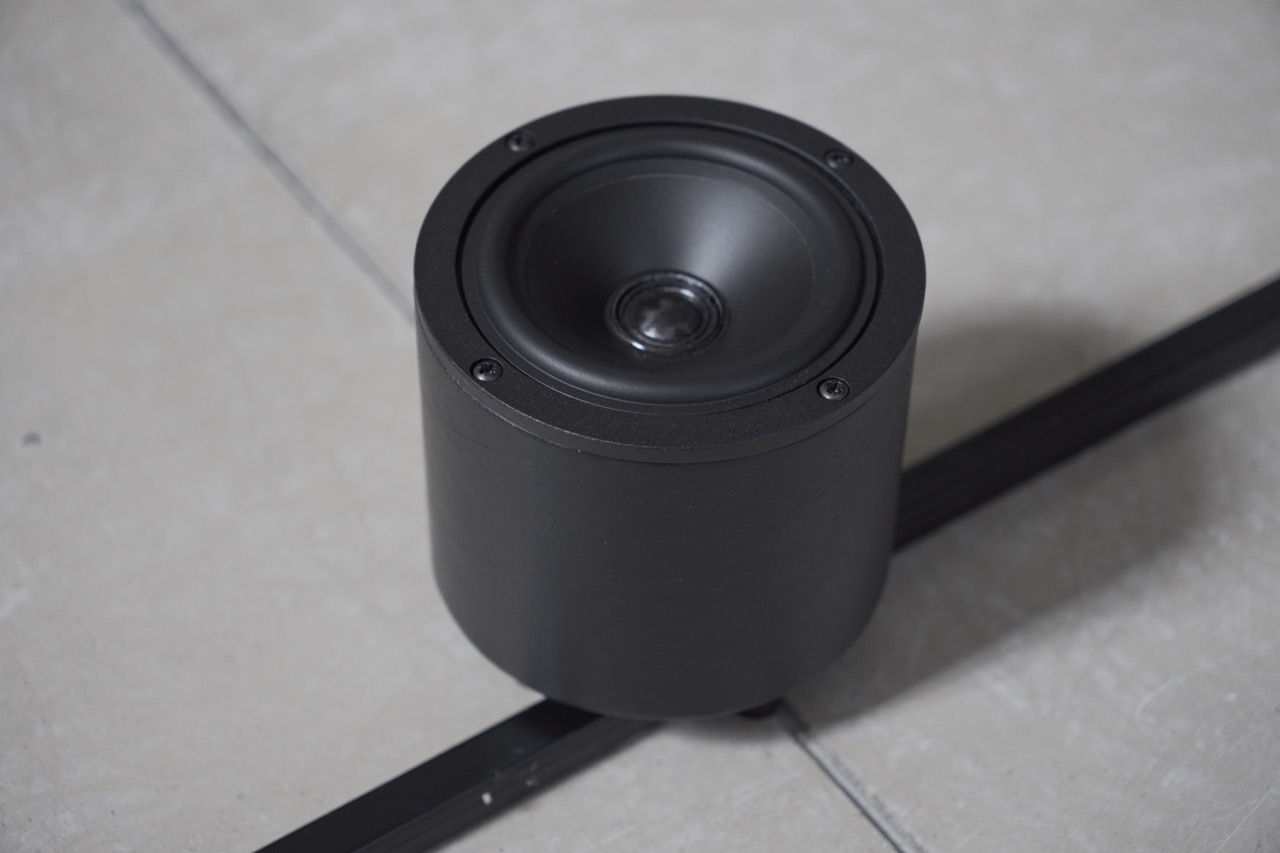 Photo: Asbjørn Blokkum Flø.
Organising studio recordings using MuBu
To fully utilize such a large system, different types of sound material are used. Field recordings, studio recordings and synthetic sound is blended to create flexible models of rain sounds. The field recordings are loaded into buffers, and various parts of the buffers are distributed across the ninety-six speakers. Because of the granular nature of rain sounds, this results in a spatially distributed, granular synthesis.
Approximately two thousand studio recordings of single water drops have been made, where water drops of different sizes fall on different materials such as metal, wood, glass, plastic, cardboard, and fabric. Ircam's MuBu Max externals was used for analysing and organizing these recordings. Segmented audio data with audio descriptors was utilized to prepare the recordings for the installation. Furthermore, MuBu concatenative synthesis is used to play back segments of audio buffers based on the analysis.
The sound of singular drops has also been achieved using synthesis, controlling the frequency, spectral balance, density, and combination into various structures. There is a body of research on how sound relates to meteorological phenomena, and several models for simulation of the acoustical and physical qualities of rain exist. This installation ended up using algorithms for the synthesis of rain sounds developed by the musician Katsuhiro Chiba, algorithms that are at the same time elegant, simple, and good sounding.
Organising space using Spat
Ircam's Spat Max externals has been used for working with the spatial aspects of the installation. The sounds were distributed in space with variation in placement, density, and movement. Field recordings were used for creating diffuse sound fields, while singular sounds were used as point sources with precise placement in the space.
The K-Nearest Neighbours (KNN) panning algorithm was the main panning algorithm used in the installation. The KNN panning algorithm does not depend on a sweet spot to be perceived correctly and is well suited to large scale sound installations where the listener has constantly changing listening positions.
This panning algorithm makes it possible to define the maximum number of contributing speakers as well as the spread of the virtual source. In this way the sound source can vary from anything between a single point source, to large diffuse sound fields across the entire sound system.
In addition to the Spat Max externals, two other methods were used for spatial work. One is the distribution of large granular sound fields based on field recordings, as described earlier. The other is simply using single loudspeakers as singular sound sources. Because of the high number of speakers spread across a large reverberant space, this method turns out to be very effective.
These three methods combined; distributed field recordings, KNN and single loudspeakers, makes for a flexible and powerful combination of spatial tools. 
Along the Danube River
Rain and water have been important for the area along the Danube River, a cultural landscape with roots going back to prehistoric times. When we move the sound of rain from the agricultural areas on the outside, into a monastery church from the 13th century, a separate layer of potential interpretations arises. 
Rain is the result of earth's climate system, but it is also a complex sound phenomenon. In the installation Electric Rain Krems, this sounding dimension is examined through ninety-six individually controlled speakers that fill the space and present the listener with an all-encompassing sound field. The sound field is coloured by the acoustic properties of the space, and changes as you move through the old monastery church.
Exhibited at Klangraum Krems, 9 June – 2 October 2022.
Parts of this text are based on the text About the Construction of Electric Rain (Jøran Rudi, 2018).
Electric Rain Krems was made with support from Music Norway and produced by Klangraum Krems.
Technology developed and produced at Notam (the Norwegian Centre for Technology, Art and Music) by Asbjørn Blokkum Flø, Thom Johansen and Hans Wilmers.
Thanks to Stefan Bauer, Franco Gatty, Liselotte Grand, Paula Haslinger, Michael Huber, Fabian Lang, David Lang, Henning Linaker and Ernst Steindl.
Video, sound, and editing: Asbjørn Blokkum Flø
Camera assistant: Fabian Lang
More about Electric Rain Krems:
https://www.asbjornflo.net/en/art/electric-rain-krems/
Biography
Asbjørn Blokkum Flø (b. 1973, Volda) lives and works in Oslo. Flø's works treat sound as both a means of communication and as purely abstract sound material, and in his works he has worked on both objects from music history and the intrinsic value of sound.
In the installation Doppelgänger (Bergen Kunsthall, 2014) the materiality of sound and sounding metal objects are the center of attention while rain as a sonic and climatic phenomenon was the starting point for the site-specific sound installation Electric Rain Krems (2022), exhibited at Klangraum Krems in Krems, Austria. These works are within a critical sound art tradition, but Flø's works are nevertheless more often sensual and immediate.
Fløs works have been shown, performed and presented at, among others, DEAF (Dutch Electronic Arts Festival, Rotterdam, The Netherlands), ICMC (International Computer Music Conference, Denton, USA), Klangraum Krems (Krems, Austria), NIME (New Interfaces for Musical Expression, Baton Rouge, USA), Synthése (International Festival of electronic music and sonic art, Bourges, France), Sound around Kaliningrad (International Forum of Experimental Music and Sound Art, National Center for Contemporary Arts (NCCA), Kaliningrad, Russia), Prix Italia (Prix Italia, Radio Television Italiana, Italy), Ars Acustica (EBU Ars Acustica Group, European Broadcasting Union), and Bergen Kunsthall, Henie-Onstad Art Center, Kunstnernes hus, Atelier Nord, Ultima, Borealis Festival, Ibsen Festival, Ekko Festival and Greenland Chamber Music Festival in Norway.