Viewing posts by Liz Gorsen
Posted by: Liz Gorsen 2 days, 9 hours ago
Places

Contacts 
Teams
Posted by: Liz Gorsen 4 weeks, 1 day ago
2 Avril 2020 - 19h30 Salle Claude-Champagne - Université de Montréal
Concert 1: Total SOLo
Le Nouvel Ensemble Moderne with the Ensemble de musique contemporaine de l'Université de Montréal
Works by JÉRÔME COMBIER, PHILIPPE LEROUX, SERGE ARCURI
Posted by: Liz Gorsen 1 month ago
Identify what OpenMusic version do you need according with your computer system
======> STEP 2
Download it.
======> STEP 3
======> STEP 4
After you installed OpenMusic according with "step 3 », download the follow libraries:
This is a beta release of the OMChroma library adapted for OM6 and om7.
Requires the installation of Csound (v6.10 recommended, Mandatory)
https://csound.com/download.html
OMChroma beta: requires OM2Csound library
https://github.com/openmusic-project/OM2Csound/releases/latest
======> STEP 5
Warning, as the workshop is a very short one, 2h30, we are not having enough time to see all OM libraries.
======> STEP 6
If you have some time, please, take a look on this page before coming to the workshop.
======> STEP 7
You will receive shortly an OpenMusic Workspace, with the patches used during the workshop
==============
If you have any question, send an e-mail to mikhail.malt@ircam.fr with the subject preceded by [Shanghai_OM_WSP].
Posted by: Liz Gorsen 1 month, 2 weeks ago
TUESDAY, NOVEMBER 5th (5pm)
 / 

WEDNESDAY, NOVEMBER 6th / THURSDAY, NOVEMBER 7th / FRIDAY, NOVEMBER 8th (2pm)
Posted by: Liz Gorsen 1 month, 3 weeks ago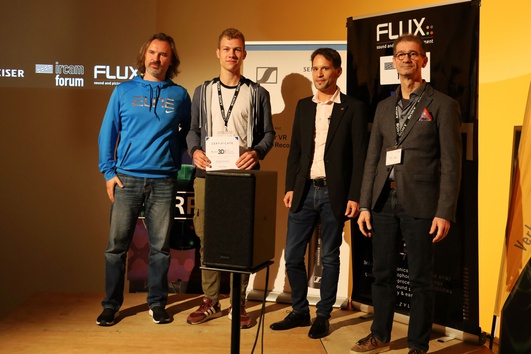 Posted by: Liz Gorsen 1 month, 4 weeks ago
November 1st - 7.30 pm /

Changjiang Theater, Shanghai
In collaboration with Shanghai Conservatory of Music / As part of the Shanghai International Electronic Music Week

Huihui Cheng (China, 1985) : "Me Du Ça", for soprano and electronic (7')
Computer Music Designer : Huihui Cheng / Computer Music Production : Mikhail Malt / Pedagogical supervision : Grégoire Lorieux (IRCAM), Hae-Sun Kang (Conservatoire de Paris)

Me Du Ça gets its inspiration from the figure of a jellyfish, metaphor guideline of this piece. The flutes / pipes thus represent the snakes that took the place of the hair of the mythological figure. Its sounds of Aeolian whistling, noisy air, also seek to evoke the reptilian universe of the jellyfish in a fragmentary way, thus disorienting linear perception.
Posted by: Liz Gorsen 4 months, 2 weeks ago
Hotel ZERO1
1 René-Lévesque E Boulevard, Montreal, QC H2X 3Z5, Canada